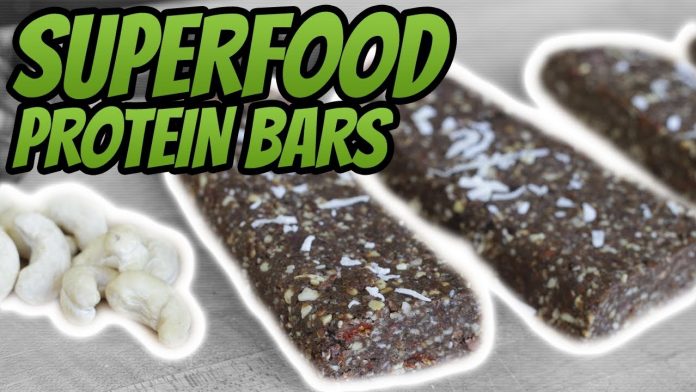 On today's episode of Live Lean TV, I'm showing you how to make a superfood inspired, homemade, no bake, paleo protein bars recipe.
✔ Join Team Live Lean:
✔ Paleo Protein Powder Discount: (use coupon code: LiveLeanTV)
✔ Live Lean Body Best Program Selector Quiz:
OTHER AWESOME COOKING RECIPE VIDEOS:
✔ Healthy Nighttime Snack For Muscle Building (ALMOND BUTTER CUP PROTEIN SHAKE):
✔ PALEO PROTEIN ICE CREAM Recipe [Quick And Simple]:
✔ LOW CARB Cereal Recipe Replacement [PALEO FRIENDLY]:
READ OR LISTEN TO THIS EPISODE:
✔ Blog Post:
✔ Podcast:
Subscribe and Live Lean 365 days a year with us:
This paleo protein bar makes a perfect healthy snack, to keep you energized at the office, or on the road.
One of my followers DM'd me a recipe similar to this on Instagram.
So I've played around with a few different recipes, made adjustments to the ingredients and quantities, and changed a few of the baking methods.
This all led to the creation of these homemade, no bake, paleo protein bars that are filled with superfood ingredients.
You're going to love this no bake paleo protein bars recipe because they are:
– Filled with healthy fat, fiber, and protein to stabilize your blood sugar and keep you feeling full.
– An excellent source of antioxidants, via the cacao and goji berries, to keep you looking and feeling young.
– Not only taste delicious, but they are amazing for your body too.
Lets jump into this paleo protein bars recipe.
How To Make No Bake Paleo Protein Bars Recipe (SUPERFOOD INGREDIENTS):
– 6 servings
INGREDIENTS
– 1 tbsp Coconut Oil
– 1 tbsp cacao butter
– 1 tbsp cacao nibs
– 1 tbsp cacao powder
– 1 tbsp almond butter
– 1 tbsp Maple syrup
– 1 tbsp Chia Seeds
– 2 tbsp coconut flakes (unsweetened)
– 1/4 cup almonds
– 1/4 cup cashews
– 1/4 cup hazelnuts
– 3/4 cup dates
– 2 tbsp goji berries
– 1 zest of a lemon
– dash Sea Salt
– 2 scoops Rootz Paleo Protein Powder
INSTRUCTIONS:
1. Over low heat, add coconut oil and cacao butter to a pan and stir until melted.
2. Turn off the heat, then add cacao nibs, cacao powder, almond butter, maple syrup, and chia seeds to the pan and mix.
3. Remove the mixture from the pan and add it to a mixing bowl.
Turn the heat back on to medium, then lightly roast the coconut flakes for 30-60 seconds, stirring often, then remove from heat and add it to the same mixing bowl.
4. Add the nuts to the heated pan and roast for 1-2 minutes, stirring often.
5. Add the dates, goji berries, lemon zest, seat salt, protein powder, and nuts to the mixing bowl.
6. Pour the protein bar mixture into a food processor and blend for approximately 30 seconds.
7. Add parchment paper to a 5 x 9 baking dish and press all the ingredients with your hands to form one big layer of protein bar.
8. Pack the mixture with a knife to compact everything together and form tight edges.
9. Place the protein bar mixture in the fridge for 1-2 hours or as long as it takes for the mixture to solidify.
10. Cut into 6 protein bars and sprinkle with coconut flakes
Nutrition Info (per 1 protein bar serving):
– Calories: 295
– Protein: 10g
– Carbohydrates: 21g
– Fat: 19g
If you don't have access to certain ingredients, feel free to use any of the following ingredient swaps:
– If you can't find cacao butter, simply double up the amount of coconut oil.
– The goji berries, chia seeds, and cacao nibs are not a necessity, but they are very nutrient rich, and add an abundance of antioxidants, fiber, and taste.
– Feel free to swap in any of your favorite nuts and nut butters such as macadamias, walnuts, or pecans.
WANT MORE DAILY TIPS ON HOW TO LIVE LEAN?:
✔ INSTAGRAM:
✔ INSTAGRAM:
✔ INSTAGRAM:
✔ SNAPCHAT:
✔ SNAPCHAT:
✔ FACEBOOK:
✔ TWITTER:
✔ TWITTER:
✔ TWITTER:
Welcome to Live Lean TV. The online fitness and nutrition show, hosted by Brad Gouthro and Jessica Gouthro, teaching you how to LIVE THE LEAN LIFESTYLE 365 days a year. Watch hundreds of fat blasting & muscle building workouts, easy and delicious recipes, as well as fitness and nutrition tips to get you your dream body (and maintain it 365 days a year). Make sure you click the SUBSCRIBE button for 2 new fitness and nutrition shows every week!
Business Enquiries: [email protected]
Send Us Stuff Here:
Live Lean TV
555 Front Street, Unit 403,
San Diego, CA
92101, USA