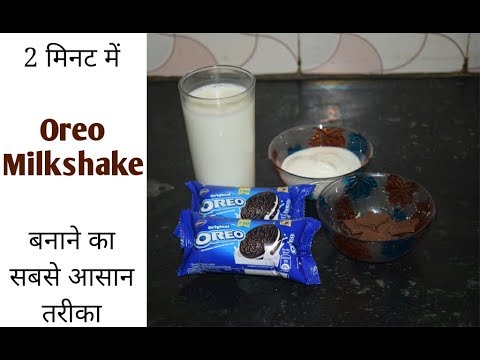 Today i am going to show you How To Make Oreo Milkshake at home. Oreo milkshake is very easy to make and very tasty. Oreo milkshake recipe in Hindi is very popular these days in youth. lets begin how to make Oreo milkshake in 2 minutes. Today we will make quick oreo milkshake recipe. oreo milkshake without icecream is not so tasty but if we add icecream in Oreo Milkshake, it increases the taste of our oreo milkshake. Many people ask me about how to make an oreo milkshake or oreo shake at home. so today i made this video for you how to make oreo milkshake with chocolate and icecream, oreo cookie milkshake can be made in 2 minutes and guys its is not so hard to make at home. Why pay 100rs at any restaurant for an oreo milkshake with ice cream but we can make oreo milkshake in just 30rs with our oreo shake recipe.
Ingredients:
– 2 Packets Oreo Biscuits.
– 1 Scoop Vanilla Ice Cream
– 1 Chocolate
– 1 Glass Milk
If you like our Tasty Oreo Milkshake recipe than Please Don't Forget to like my video. If you want me to make regular videos for you than Please SUBSCRIBE to my channel. Please Like, Comment and Share to Our Video.
You can also watch our previous video
French Fries Recipe in Hindi – How To Make Crispy French Fries At Home in Hindi? | Lajawab Recipe –
You can also connect with me on all Social Media
Facebook –
Instagram –
Please SUBSCRIBE To My Channel – ITS FREE And Give A Thumbs Up ( LIKE ) To My Video And Share This Video With Your Friends.
कृपया मेरे विडियो पे लाईक का बटन दबाये और मेरे चैनल को सब्सक्राइब करे |
Everything You See On This Video Was Created By Me ( Lajawab Recipes ) Unless Otherwise Stated