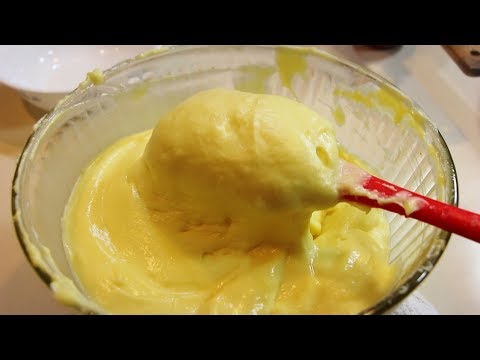 Hi everyone! I show you how to make pastry cream as well as a recipe on how to make a thick pastry cream for putting in a cake filling! If you want a smooth pastry cream, use milk and add in more butter. If you want a thick pastry cream, use half and half and less butter, more cornstarch or egg yolk. But this recipe is quite thick already by just using half and half and less butter. So check it out!
(In this video I made a big batch. So if you want to make a smaller batch, go ahead and divide this recipe in half.)
Recipe:
10 yolks
1 cup sugar (DIVIDED in half) (half for yolks and half for milk)
1/2 cup cornstarch
4 cups milk (or half and half for a thicker pastry cream)
1 tsp salt
1 TBSP vanilla
4 tsp butter (or 2 tsp butter for a thicker pastry cream)
Let it cool for at least 6 hrs before use. Overnight is best.
TIPS and NOTES:
Do not boil your milk. Milk should be around 82 degrees or just about boiled before adding it in the yolk.
Make sure plastic wrap is on the pastry cream or else it creates a skin on the actual pastry cream.
Use vanilla bean if you want those awesome vanilla seed look in your pastry cream.
If the next day you take it out and it becomes too thick for your liking, it's okay to add a little milk to thin it out a little bit.
Hope you guys enjoy!
Subscribe to my new channel for more videos to come!
Follow me on Instagram for food adventures, places to go eat, places I love to eat, and my food creations you can create yourself!
Music By
Artist: Nicolai Heidlas
Title: Happy Harmonies