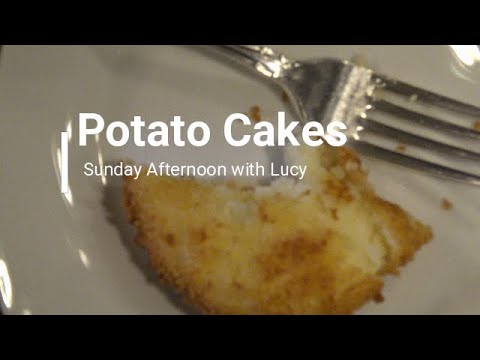 An easy and fast variation of mashed potatoes. Your kids will love it, and so do you. If you have left over mashed potatoes, just add eggs and let it set in a cookie sheet inside your fridge for at least two hours (or overnight).
Ingredients for 12-14 potato cakes:
3 pounds potatoes (cleaned, peeled, and cut in squares)
Salt (more or less 1 tablespoon)
3 to 4 mashed garlic cloves (optional)
2 tablespoons butter
¼ cup + 2 tablespoons whole milk (1/4 cup for mixing with the potatoes, 2 tablespoons for the crust)
3 eggs (1 to mix with the potatoes, 2 for the crust)
2 cups (more or less) Panko bread crumbs
1 to 2 cups Vegetable Oil for frying
(Optional, you can add chives, ground black pepper, or cheese)
Clean, peel, and cut potatoes.
Place potatoes in a big pot or casserole, cover with water, add salt, and add mashed garlic cloves.
Boil the potatoes until tender.
Mash potatoes; add 2 tablespoons butter; add ¼ cup milk; and 1 beaten egg; add any additional or optional ingredients); mix well.
Cover a cookie sheet with wax or parchment paper.
Spread potatoes in the cookie sheet (compacted), let it set in the refrigerator for at least two hours or overnight (preferable).
Beat 2 eggs with 2 tablespoons of milk; spread Panko bread crumbs in a plate.
Cut the potatoes with a round cookie cutter (or water glass).
Heat enough oil to cover potatoes when frying them (1 to 2 cups).
Dredge patties in the egg mixture, then cover with the Panko bread crumbs.
Fry the patties in the hot oil.
Flip parties when golden brown in one side; remove when completely golden brown and place them on absorbent paper towel.
BUEN PROVECHO!
Soundtrack: Lucid Dreamer by Spazz Cardigan, YouTube Audio Library
Simple Sunday Afternoons
PO Box 34282
San Juan PR 00934-0282
simplesundayafternoon@gmail.com
luzdeliamaldonado@gmail.com