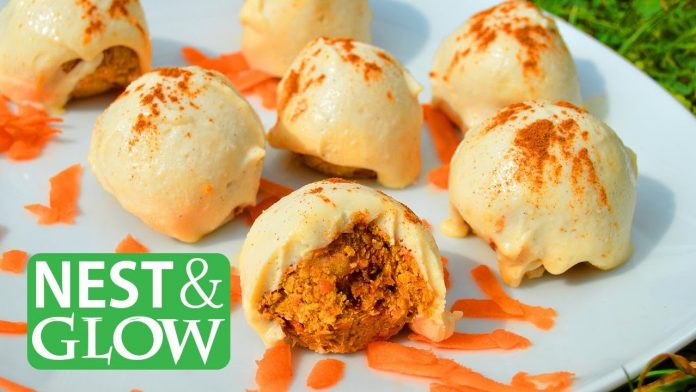 How to make raw vegan carrot cake truffles with a cashew vanilla frosting. Full of heart-healthy fats, protein, fibre, vitamins and minerals. Can be made as one large cake instead of truffles.
FULL RECIPE –
Buy book Healthy and Easy with over 100 other plant-based vegan recipes like this –
Ingredients
– 2 cups / 100g grated Carrot
– 1 cup / 150g Walnuts
– 1 cup / 100g Dates
– 3 tbsp Oats (use gluten free if your avoiding gluten)
– 2 tbsp shredded Coconut
– – 1 tbsp Chia seeds
– 1 tsp Cinnamon
– ½ tsp ground Ginger
– ¼ tsp Nutmeg
Icing
– 1 cup / 150g Cashews
– ½ cup / 120 ml Coconut butter or oil
– 3 tbsp Maple syrup
– 1 tsp Vanilla
– 1 Lime juiced
How to make
– Put all of the base ingredients into a food processor and pulse blend until they are all combined.
– The mixture should be firm, if it's not add some more oats.
– Either roll into balls for truffles and place on non stick sheets or push into a cake pan for one big carrot cake. Place in the freezer to chill while you make the icing.
– Melt the coconut cream as its solid at a room temperature. I melt it by placing in a bowl within a bowl of hot water.
– Place all of the icing ingredients into a blender with a few tablespoons of water. Blend until you get a smooth creamy icing.
– Hold the truffles on a fork over the icing and spoon on the cashew vanilla bean icing. Then sprinkle with cinnamon and put on a non stick sheet.
– For the cake just pour the icing on top and spread it out. Sprinkle with cinnamon / grated carrots / chopped nuts to garnish,
– Once the truffles / cake is made chill in the fridge for half an hour and they are ready to eat.
– They will last several days stored in the fridge.
Main site –
Facebook –
Instagram –
Pinterest –
Twitter –
Google+ –