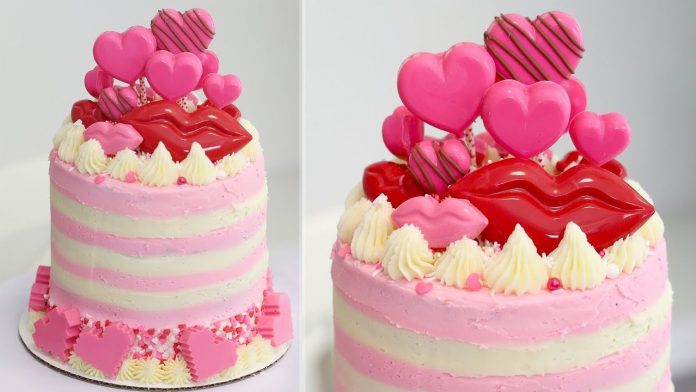 A pretty pink vanilla cake for Valentine's Day! Decorated with heart chocolate lollipops, chocolate lips, vanilla buttercream and Valentine's Day sprinkles. FULL RECIPE BELOW!
The ULTIMATE Valentine's Day Cake
Ingredients
Four 6" cakes from vanilla cake base (recipe here: )
Vanilla buttercream recipe, doubled, half dyed pink (recipe here: )
melted red and pink candy melts
3 varieties of Valentine's Day sprinkles
Chocolate Lollipops (recipe here: )
Directions
1. Pour the pink candy melts in to a heart-shaped chocolate mold. I used the adorable 8-bit heart mold from Rosanna Pansino's collaboration with Wilton. Place in the fridge to chill until ready to be used.
2. Pour the red candy melts and any remaining pink candy melts into a lip-shaped chocolate mold. Sprinkle some small sprinkles on top, to create a decorative back to the chocolates. Place in the fridge to chill until you need them.
3. Place the pink and white buttercream into piping bags fitted with large, round piping tips. Slice the tops and bottoms off the cake layers and stack on a rotating cake stand. Pipe alternating rings of pink and white buttercream between each layer. Then pipe horizontal stripes around the outside of the cake and dollop some more pink buttercream on the top of the cake. Use a cake spatula to smooth the sides. Remember to wipe the spatula clean after each time you smooth the icing. This keeps the stripes looking clean and not muddy. Then smooth the top of the cake.
4. Press some chunky Valentine's Day sprinkles around the bottom 3 inches of the cake.
5. Place the remaining white buttercream into a piping bag fitted with a large, star-shaped piping tip (#6B). Pipe large, tall dollops all over the top of the cake and smaller dollops around the bottom of the cake.
6. Sprinkle your final variety of Valentine's Day sprinkles onto the top of the cake. Then decorate with some Chocolate Lollipops and the chocolate lips. Place the 8-bit hearts around the base of the cake. Enjoy!
PRODUCTS MENTIONED:
Rosanna Pansino 8-Bit Heart Mold:
Lip Chocolate Mold (similar):
Non Pareils Valentine's Day Sprinkles:
Heart Valentine's Day Sprinkles:
Chunky Valentine's Day sprinkles mix (similar):
Vanilla Cake and Buttercream recipe:
Chocolate Lollipops recipe:
Facebook: www.facebook.com/pankobunnycooking
Twitter:
Instagram:
Pinterest:
Blog:
Subscribe to my Channel!
New videos every Tuesday, Thursday and Sunday! Make sure you tune in!
As always, thank you!!
xx
Cayla
For all of you who are amazing and have read this far, here is a clue for tonight's video: Sunday's vlog! Shooting for the new cookbook has been kicking my butt, I am so sorry for the delay!
Music courtesy of Audio Network.
Song: Salad Days
This is not a sponsored video.