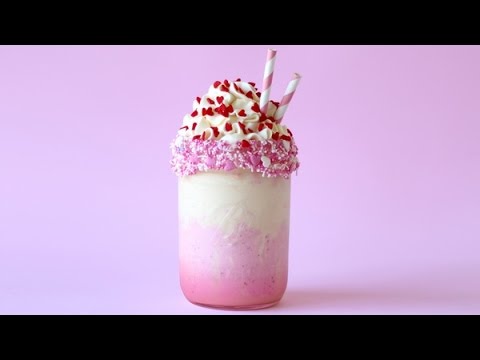 How to make two tone milkshake | strawberry milk recipe | strawberry quick drink | quick recipe
Be enchanted by this thick milkshake made with Baileys, sweet strawberries and sprinkles.
INGREDIENTS
•Serves 4
•8 scoops of vanilla ice cream + ¼ cup baileys Irish cream
•8 scoops of vanilla ice cream + ½ cup frozen strawberries (or fresh)
•1 tsp vanilla extract
•Thickened cream (for whipping)
•Pink sprinkles
•Heart sprinkles
•Ganache
•200g white cooking chocolate
•100ml cream (35% fat content)
LET'S GET COOKING…
1.Add thickened cream to a large metal mixing bowl. Whip on high using a hand mixer until cream thickens to stiff peaks that can hold their shape. Cover with plastic wrap and set aside in the fridge.
2.To prepare ganache add choc and cream to a microwave safe bowl and microwave for 20 seconds at a time mixing each time until smooth
3.Dip the lid of the glass into the ganache and allow excess to drip off. Dip into pink sprinkles and set aside to chill in the fridge.
4.Add baileys, ice cream and vanilla extract to a food blender and blend until everything is well combined. Pour into a jug and chill.
5.To make pink shake at ice cream and strawberries into a food blender and blend until well combined. You may need to stop the blender and use the end of a wooden spoon to help things mix a little.
6.Pour pink shake in the glass first followed by baileys shake.
7.Fit the end of your piping bag with a 1M tip and fill with whipped cream. Pipe on top of your milkshake. It may sink a little. One way to prevent this is to pipe starting in the centre and make your way around the outside of the jar so that the cream sticks to the glass and then continue piping to create a cone effect.
8.Sprinkle with heart sprinkles and finish off with a serving straw.
9.Shakes are best served fresh.
We made Home Cooking in light of one objective, to interface the world through video. Probably the most bringing together and extraordinary moments of our life revolve around a meal, the place where individuals meet up. We realize that we can't do this single-handedly, nor would we need to. It will take a group of profoundly enthusiastic individuals. Fortunately, home cooking, similar to you, from around the globe are as of now making stunning content, groups and drawing in with your enthusiasm. Share it to others and touch one more individual every day.
Don't forget to subscribe us
YOUTUBE:
Follow me:
FACEBOOK:
TWITTER:
GOOGLE+:
#love potion perfume
#love potion harry potter
#what is love potion
#love potion magickal perfumerie reviews
#homemade love potions
#how to make a love potion
#love potion perfume reviews
#love potion perfume for sale