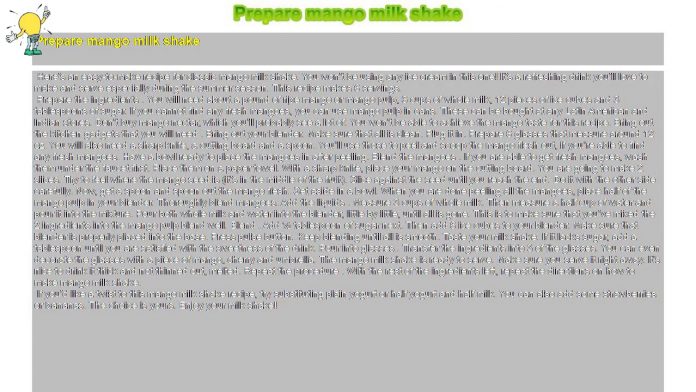 Prepare mango milk shake
Here's an easy-to-make recipe for classic mango milk shake. You won't be using any ice cream in this one! It's a refreshing drink you'll love to make and serve especially during the summer season. This recipe makes 6 servings.
Prepare the ingredients . You will need about a pound of ripe mango or mango pulp, 6 cups of whole milk, 12 pieces of ice cubes and 3 tablespoons of sugar. If you cannot find any fresh mangoes, you can use mango pulp in cans. These can be bought at any Latin American and Indian stores. Don't buy mango nectar, which you'll probably see a lot of. You won't be able to achieve the mango taste for this recipe. Bring out the kitchen gadgets that you will need . Bring out your blender. Make sure that all is clean. Plug it in. Prepare 6 glasses that measure around 12 oz. You will also need a sharp knife, a cutting board and a spoon. You'll use those to peel and scoop the mango flesh out, if you're able to find any fresh mangoes. Have a bowl ready to place the mangoes in after peeling. Blend the mangoes . If you are able to get fresh mangoes, wash them under the faucet first. Place them on a paper towel. With a sharp knife, place your mango on the cutting board. You are going to make 2 slices. Try to feel where the mango seed is (it's in the middle of the fruit). Slice against the seed until you reach the end. Do it with the other side carefully. Now, get a spoon and spoon out the mango flesh. Set aside in a bowl. When you are done peeling all the mangoes, place half of the mango pulp in your blender. Thoroughly blend mangoes. Add the liquids . Measure 3 cups of whole milk. Then measure a half cup of water and pour it into the mixture. Pour both whole milk and water into the blender, little by little, until all is gone. This is to make sure that you've mixed the 2 ingredients into the mango pulp blend well. Blend . Add ½ tablespoon of sugar next. Then add 6 ice cubes to your blender. Make sure that blender is properly placed into the base. Press pulse button. Keep blending until all is smooth. Taste your milk shake. If it lacks sugar, add a tablespoon until you are satisfied with the sweetness of the drink. Pour into glasses . Transfer the ingredients into 3 of the glasses. You can even decorate the glasses with a piece of mango, cherry and umbrella. The mango milk shake is ready to serve. Make sure you serve it right away. It's nice to drink it thick and not thinned out, melted. Repeat the procedure . With the rest of the ingredients left, repeat the directions on how to make mango milk shake.
If you'd like a twist to this mango milk shake recipe, try substituting plain yogurt or half yogurt and half milk. You can also add some strawberries or bananas. The choice is yours. Enjoy your milk shake!