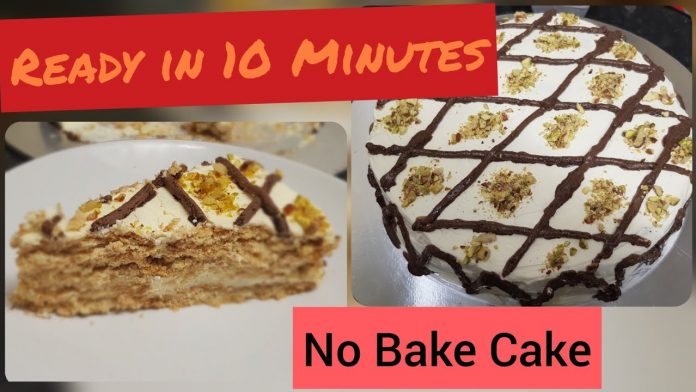 Ingredients:
Fresh double cream 300ml
Cream Cheese 200g
Sugar 5 Tablespoons
Vanilla Essence 1 Tablespoon
Biscuits 24 Pieces
For decoration:
Chopped Pistachio (Optional)
Chocolate Sauce/ Ganache
Note:
Refrigerate the cake for at-least 12 hours before serving for perfect cake like texture and taste. It will help biscuits to soften.
If you have already Subscribe to my YouTube Channel then Please join my facebook group for more updates, recipes, tips and tricks:
Thanks.
——————————————————————————-
chocolate, cheesecake, cake recipe, cream cheese, buzzfeed, peanut butter, no bake, eggless cake, tasty, chocolate cake, cake recipes, easy recipes, how to bake, how to cook, food, how to, recipe, fast food, how to make vanilla sponge cake without oven, eggless vanilla sponge cake without oven, how to make vanilla sponge cake at home without oven, side dish, snacks, vanilla, simple baking, dessert ideas, cookies, sugar, no bake oreo cheesecake by cook n' share, no bake cakes, oreo (dish), cake, baking (culinary technique), how-to (media genre), cheesecake (dish), dessert (type of dish), cooking lessons, vanilla sponge cake in oven, cooking tips, great recipes, icebox cake, food, cooking, cake, dessert, recipe, desserts, easy recipes, baking, world cuisine, cooking lessons, daves cooking, how to cook, cook n' share, great recipes, delicious recipes, cooking tips, kitchen, tasty, how to, vice, ice box cake, chocolate, cookies, cook, with, southern cakes, icebox, pies, lime, lime desserts, key limes, southern icebox, lime recipes, key lime, southern desserts, no cook recipes, key lime icebox cake, cookie (type of dish), refrigerator (culinary tool), dessert, cookies, buttermilk biscuit, recipes, easy recipes, dessert recipes, biscuit pudding, dessert (type of dish), marie biscuit pudding, biscuits, strawberries, cooking, custard, biscuit, easy sponge cake, eggless sponge cake, mango, fruit tart dessert, quick dessert recipe, no bake dessert recipes, banana, strawberry, no bake, no bake desserts, halal chef, best eggless sponge cake, fruit, custrad based dessert, vanilla, easy, summer recipes, mix fruit custard recipe, how to make fruit custard, how to make vanilla custard, cake without egg, mouth watering, dessert ideas, special vanilla custard u0026 fruit dessert, bananas, egg replacer for sponge cake,tutorial, diy, useful things, do it yourself, crafts, 5-minute crafts, lifehacks, tricks, tips, diy projects, diy activities, handcraft, howto, easy life hacks, simple life hacks, kids, children, dessert, recipes, chocolate, yummy, life hacks, 5-minute crafts kids, cooking, marshmallow, cake, baking, how to cook, how to make, decorating, how to, cooking hacks, preschool, recipe, school, kitchen tips, dinner, kindergarten, breakfast, for kids,cake, easy chocolate cake, recipe, baking, cake recipes, dessert, chocolate cake, tasty, microwave cakes, buzzfeed, birthday cake, eggless cake recipes, chocolate cake recipe, chocolate, cake recipe, jenny jones, dessert recipes, orange sponge cake recipe, vanilla mug cake, mug cake, mug cake recipe, 18853, easy sponge cake, eating sponge cake, sponge cake science, sponge cake racipe, baked cake, eggless chocolate cake, italian spongecake, cheese sponge cake, sponge bob edited, vanila sponge cake, fluffiest sponge cake, angle food cake, eggless sponge cake, vegetarian sponge cake, chocolate mug cake, fatless sponge cake nigella, fatless sponge cake recipe fat free sponge cake, fatless cake ingredients,cake, eggless, recipe, eggless chocolate cake, eggless vanilla cake, eggless cake recipe, sponge cake recipe, birthday cake, vegan sponge cake, eggless cake recipes, sponge cake, eggless sponge cake, eggless vanilla sponge cake, vanilla cake, baked, food, eggless chocolate sponge cake, indian, cake recipes, eggless cake, how to make cake, cake recipe, eggless sponge cake without condensed milk, eggless sponge cake in microwave, make, no oven sponge cake, simple eggless vanilla sponge cake recipe, 15871, eggless sponge cake with curd, eggless sponge cake in pressure cooker, eggless sponge cake recipe indian, eggless sponge cake hebbar's kitchen, videos, less, cakes, egg, pressure cooker cake, to, how, baking
#iceboxcake
#egglesscake
#nobakecake
#quickdessertrecipe