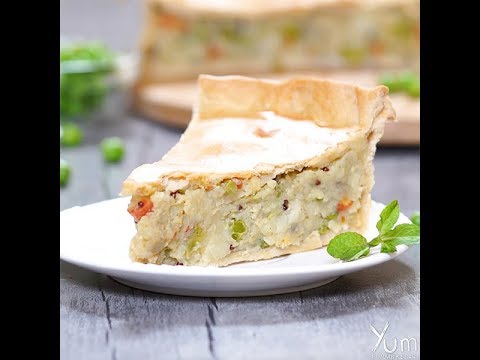 Indian Samosa Pie
Servings – 2 – 3
INGREDIENTS
All purpose flour – 300 grams
Wheat flour – 150 grams
Salt – 1/2 teaspoon
Oil – 50 milliliters
Water – 250 milliliters
Oil – 45 milliliters
Mustard seeds – 1 teaspoon
Garlic – 1 tablespoon
Ginger – 1 teaspoon
Onions – 100 grams
Carrots – 70 grams
Green peas – 150 grams
Chilli flakes – 1/4 teaspoon
Cumin powder – 1/2 teaspoon
Curry powder – 1 teaspoon
Salt – 1 1/2 teaspoons
Sugar – 2 teaspoons
Boiled mashed potatoes – 750 grams
Soy milk – for brushing
PREPARATION
1. In a mixing bowl, add 300 grams all purpose flour, 150 grams wheat flour, 1/2 teaspoon salt, 50 milliliters oil, 250 milliliters water and knead it into a smooth soft dough.
2. Wrap the dough in a plastic wrap. Rest the dough for 20 – 30 minutes.
3. Roll out half of the dough into a 12-inch circle, roughly 1/8-inch thick. Gently fold the pastry in half and transfer to a 9-inch pie plate. Do not stretch the dough, but carefully press the round into the dish so that the sides are lined and you have some overlap. Trim excess dough so that about 1/2-inch remains to make up the crust.
4. Heat 45 milliliters oil in a pot, add 1 teaspoon mustard seeds, 1 tablespoon garlic, 1 teaspoon ginger and saute for 2 – 3 minutes.
5. Add 100 grams onions and fry till translucent.
6. Then, add 70 grams carrots, 150 grams green peas and mix it well. Cook for 5 – 7 minutes.
7. Now, add 1/4 teaspoon chilli flakes, 1/2 teaspoon cumin powder, 1 teaspoon curry powder, 1 1/2 teaspoons salt, 2 teaspoons sugar and mix it well.
8. Add 750 grams boiled mashed potatoes and mix it well. Cook for another 3 – 5 minutes.
9. Prick some holes in the dough with a fork.
10. Transfer the filling to the lined pie plate, spreading the mixture out evenly.
11. Roll out the second round of dough and place on top of the pie. Press together the bottom and top layers of the pastry and trim off any excess. Fold the top layer of dough over and under the bottom layer, press firmly together and flute the edges.
12. Brush it with soy milk. Cut 4 to 5 slits into the top of the pastry.
13. Preheat the oven to 350°F/180°C. Bake for 20 – 30 minutes or until the top of the pie is golden brown.
14. Cut it into slices.
15. Serve.