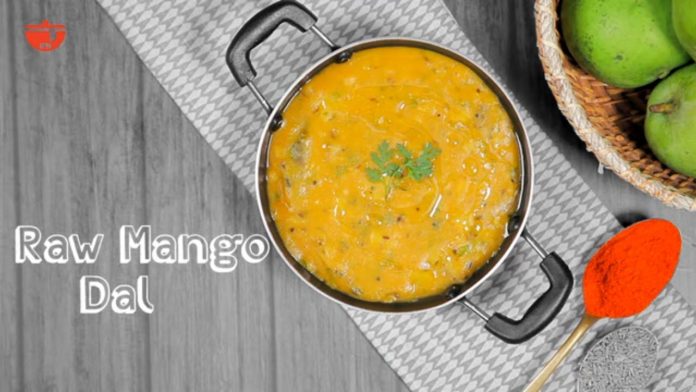 Raw Mango Dal/ Mamidikaya Pappu is a delicious side dish cooked with raw mango and lentils. Fiery spices teamed with the tanginess of raw mangoes making it an amazing combination to serve on a sunny day. Watch and learn this easy to make and pleasing to palate recipe in just a few steps.
SUBSCRIBE to our Channel –
Follow Us on Social Media :-
Facebook:
Twitter:
❤ Instagram:
IFN Website:
Love our recipes? Hit 'LIKE' and show us your support! 🙂
Post your comments below and share our videos with your friends. Spread the love! 🙂
Download our App –
Ingredients
Oil: 2 tablespoons
Mustard: 1 teaspoon
Cumin seeds /Jeera: 1 teaspoon
Curry leaves
Asafoetida /Hing: A pinch
Chilli: 3
Chilli powder: 1 tablespoon
Turmeric powder /Haldi: 1 teaspoon
Mango: 1 cup
Cooked Dal: 1 cup
Salt to taste
Sugar: 1 tablespoon
Coriander for Garnish
Method of preparation
Heat oil in a saucepan, add mustard, cumin seeds, curry leaves, hing, chilli, turmeric and red chilli powder. Mix it well properly
Add chopped mango, cooked tur dal and coriander
Let it cook for few minutes until mango soften
Your tangy raw mango dal is ready to serve.