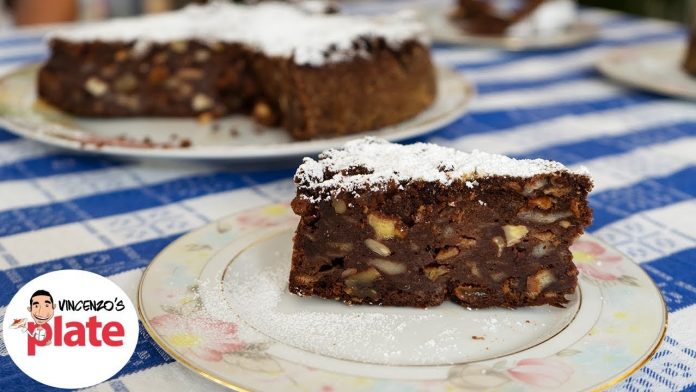 In this video recipe my mum together with nonna are showing us how to make an ancient chocolate cake. This chocolate bread cake is an old family recipe. This cake is very easy to make and it's made with leftover bread. Mix together your favorite nuts and fruits and you will have a spectacular cake recipe.
#breadcake #chocolatecake #leftoverbreadrecipe
————————————————————————-
?SUBSCRIBE TO MY YOUTUBE CHANNEL (IT'S FREEEEEE 😉
?Share it with your FOODIE friends on FACEBOOK
?Get the recipe on my website
?Check out my website for full recipes and to follow my blog:
Join my Sydney Cooking Classes:
Download my Mobile App
Buy Vincenzo's Plate Apron on:
?Kg to cups converter: [US]
Please Support My YouTube Channel via Patreon! (Help me to create more content)
This video contains affiliate links, which means that if you click on one of the product links below, I'll receive a small commission to support my youtube channel.
Support My Channel By Shopping on my Vincenzo's Plate Amazon Store!
?Subscribe to my YOUTUBE CHANNEL
?LIKE ME ON FACEBOOK
?FOLLOW ME ON INSTAGRAM @vincenzosplate
✔FOLLOW ME ON GOOGLE+
?FOLLOW ME ON LINKEDIN
?FOLLOW ME ON TWITTER
?Join my Small Group Private Italian Tour and discover the secret gems of Italy with me. Check out the itinerary and make sure you book asap (Only 10 spots available)
Check out these PLAYLISTS:
?COOKING WITH MY FAMILY:
?PASTA RECIPES:
?PIZZA RECIPES:
?MAIN COURSE RECIPES:
?DESSERT RECIPES:
✔LIKE, SHARE and COMMENT on my videos please. It really means a lot to me.
?MUSIC: Courtesy of Audio Network: www.audionetwork.com
? #VincenzosPlate is a YouTube channel with a focus on cooking, determined to teach the world, one #videorecipe at a time that you don't need to be a professional #chef to impress friends, family and yourself with mouth-watering #ItalianFoodRecipes right out of your very own #kitchen whilst having a laugh (and a glass of vino!).
?Re-Watch the chocolate bread cake recipe