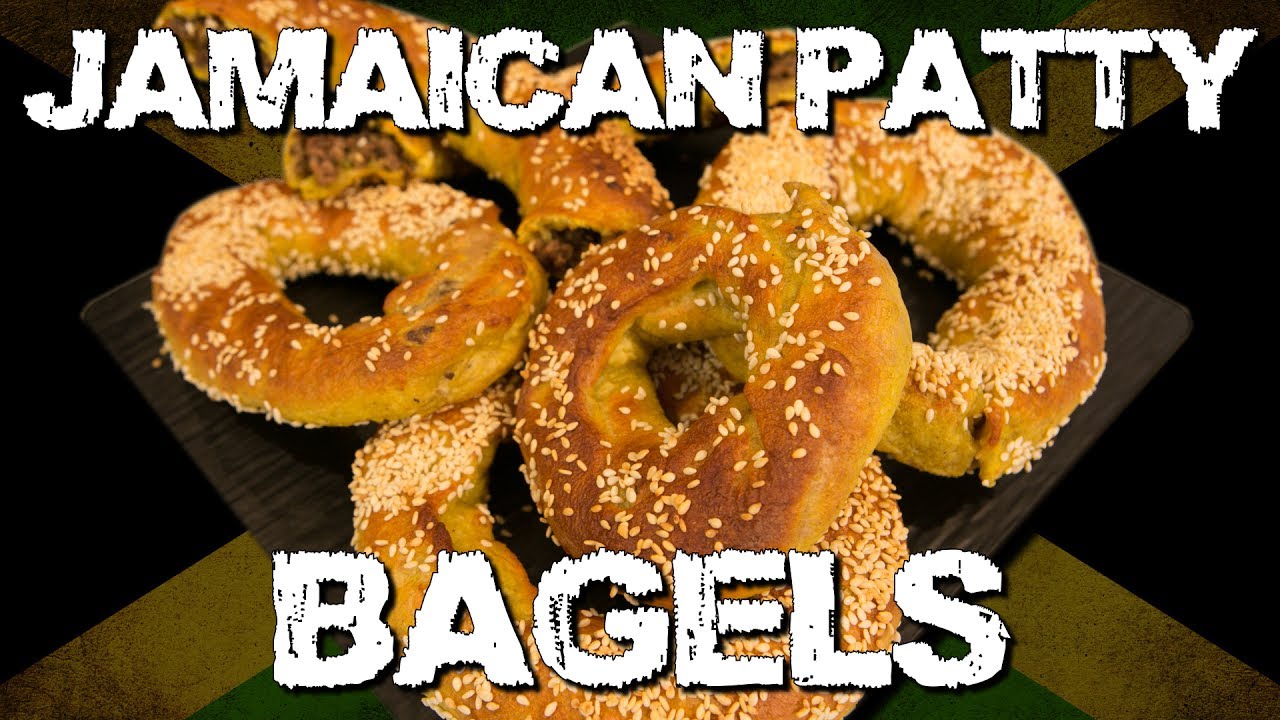 The Sauce Boss himself, Harley MF'ing Morenstein teaches you how to make Jamaican Patty Bagels, and they are gosh darn delicious!
Tools
1 Chef knife
1 Cutting board
1 Large pot
1 Oven tray
Parchment paper
3 Mixing bowls
Ingredients
1/4 cup warm water
2 Tbsp vegetable oil
1 Tbsp yeast
4 Cups of flour
3 Tbsp sugar
15 Tsp salt
3 Tbsp curry powder
1/2 diced onion
2 diced scotch bonnets
1 Tbsp diced green onions
2 Tbsp minced garlic
1/2 LB ground beef
1 Tsp jerk sauce
1 Tbsp thyme
1 Tsp curry powder
1 Tbsp all spice
salt and pepper
1/2 cup of bread crumbs
Egg Wash
1 Cup of Honey
Step 1
In a mixing bowl add 1 1/4 cup warm water, 2 Tbsp vegetable oil and 1 Tbsp yeast then Mix together 4 Cups of flour, 3 Tbsp sugar, 15 Tsp salt, 3 Tbsp curry powder. Once the yeast has activated add the flour mixture and mix until a dough is formed, and then cover it, and let sit for 30 minutes until the dough rises.
Step 2
In a pan, add 2 Tbsp vegetable oil, 1/2 diced onion, 2 diced scotch bonnets, 1 Tbsp diced green onion and 2 Tbsp minced garlic then saute for 5 minutes. Once vegetables are tender add 1/2 LB ground beef, 1 Tsp jerk sauce, 1 Tbsp thyme, 1 Tsp curry power 1 Tbsp all spice, salt and pepper cook meat for 10 minutes. Once meat is cooked add 1/2 cup of bread crumbs and mix well.
Step 3
Roll out bagel dough on a floured surface to about an 1/2 an inch thick then cut into rectangles and stuff with meat filling then egg wash one end and fold the dough over sealing it closed. Then form a bagel with the dough conceding each end.
Step 4
Boil 4 Quarts of water then add 1 cup of honey. Boil each bagel for 1 to 2 minutes each side then place on a tray lined with parchment paper sprinkle with sesame seeds and bake in the oven at 475 degrees Fahrenheit for 15 to 20 minutes.
Check out Harley's Video Diaries –
We have a #YouTubeGaming Channel:
Follow the guys!
@harleyplays @princewallick @lemme_kno @epicgrossguy @cooldan @itsmikesantos
LIKE/FAVORITE and SHARE for new meals every week!
And order the COOKBOOK from any of these links:
Amazon: …
B&N: -…
BAM: …
iBooks: …
Need tools to cook with? Order the cooking arsenal:
Jamaican Patty Bagels – Handle It