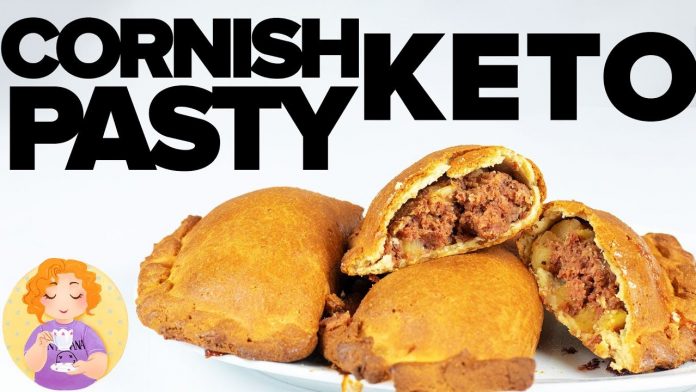 No-FatHead Keto Cornish Pasties Recipe for the perfect crust and pastry you can use for quiche, pies, pasties, keto empanadas, keto hot pockets, keto pastelitos, keto calzone and pastry! Following the original Cornish Pasties Association ? If you SUBSCRIBE ring the ? for notifications! ? Buy Me Bacon? ? Join the VIPs at
Patreon Executive Producers: Sharon + Laura
You can make this with the original Flaxseed dough as seen in the Empanadas recipe
but this is a proper pastry version as inspired by Paola from same we used for the Rhubarb and Strawberry Pie
Nutritional Information Per Pasty
483 Kcal, 4.5g Carbs (6g Fibre), 42g Fat, 20g Protein
INGREDIENTS (Makes 4 pasties)
100g / 3.5oz almond flour
40g / 1.4oz coconut flour
1/2 teaspoon xanthan gum
Pinch of Pink Himalayan Salt
10ml / 2tsp apple cider vinegar
100g / 3.5oz butter (COLD)
55g / 1.9oz cream cheese cold
1 egg (+1 for brushing)
FILLING
200g / 7oz swede / rutabaga, cubed, boiled
170g / 6oz corned beef (you can use mince but I'd cook it and season it before using as filling)
Pinch of Salt
Pinch of Pepper
KITCHEN KETO ESSENTIALS
FOOD SCALE
My Rainbow Cutlery:
Silicone Baking Sheets
Hand Mixer
Rolling Pin
Coconut Oil Spray
? MY FAVOURITE KETO RECIPE BOOKS BY MARTINA FROM KETODIETAPP
???28 DAY KETO PRIMAL MEAL PLAN + guide + weekly shopping list
???28 DAY KETO PALEO MEAL PLAN + guide + weekly shopping list
? ? KetoDietApp for Android
? ? KetoDietApp for iOS
?️??You live the keto Lifestyle? NOW WEAR IT! Ginger's Keto Merchandise is finally here
Come interact and share your recipes and ideas on
Instagram:
Our Facebook Group:
Facebook Page:
Twitter:
Blog:
?My Specs come from Firmoo, you can get 15% off through my link
?My t-shirt in the video is Stillwater from Almost Famous and you can get it here:
All of My videos in neat Playlists
Ginger's Keto Recipes ?
Ginger's Keto Talkies ?
Keto Friendly Foods Tuesdays ?
No Stupid Questions Thursdays ⁉️
Keto Food Hauls and Shopping Lists ?
Basics Keto Recipes ?
How To Keto ? – The Essential Keto Beginner's Guide
Ginger's Livestreams ??️? Chit Chat Keto Q&As
?️ All my Keto Recipes on PINTEREST
? Want to make sure you get reminded of every new recipe? There's a Mailing List for that:
? For questions or collaborations, you can get drop me a line at [email protected]
All affiliate links are the products I use. Every product is researched to give you the best quality of carb content and value for money. When you buy a product via one of these links you are supporting the channel at NO EXTRA COST to you and you have all my appreciation for that.