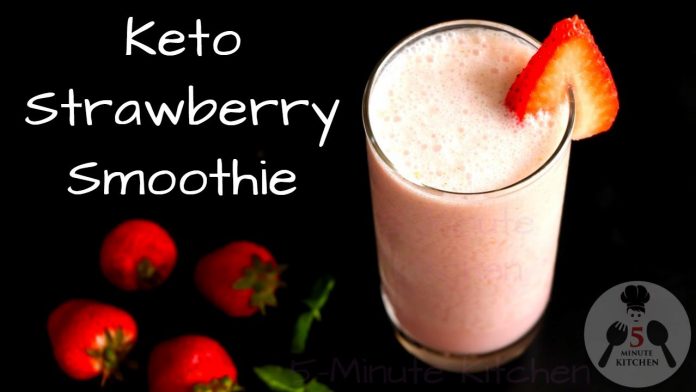 Keto strawberry smoothie with almond milk, yogurt & mint. Easy low carb strawberry shake Indian Keto Recipe by 5-Minute Kitchen.
Learn how to make the perfect Keto Strawberry smoothie. A wonderful low carb strawberry smoothie recipe is a refreshing Keto smoothie made with Strawberry, almond milk, Yogurt and Mint.
Absolutely delicious, satisfying, a nourishing Strawberry smoothie can be part of a low-carb, ketogenic, Atkins, gluten-free or grain-free diets.
Strawberry & Mint Smoothie recipe to really zest up your summer days. Also called Strawberry almond milk shake. This smoothie will keep you refreshing on hot summer days.
One of the best smoothie to kick-start your day with when you are on Keto diet. It is one of those low carb breakfasts that can actually keep you full for long and it only takes less than 5 minutes to make.
You're definitely going to love this low carb ketogenic smoothie. Also a super easy to a grab-and-go option on a busy morning.
LOW CARBOHYDRATE INDIAN KETOGENIC RECIPE
A treat for KETO and STRAWBERRY lovers.
▬▬▬▬▬▬▬▬▬▬▬▬Ingredients▬▬▬▬▬▬▬▬▬▬▬▬
1) Almond Milk (बादाम का दूध ) – 1 cup
2) Strawberry (स्ट्रॉबेरी) – 4
3) Mint leaves (पुदीने की पत्तियां) – 4-5
4) Greek Yogurt (दही) – 1/4 cup
5) Stevia (स्टेविआ ) – 1 teaspoon
Net Carbs per serving 5g
▬▬▬▬▬▬▬▬▬▬▬▬Method▬▬▬▬▬▬▬▬▬▬▬▬
KETO STRAWBERRY SMOOTHIE | INDIAN KETO RECIPE | 5-Minute Kitchen
1) Place all ingredients in a blender: Almond milk, Strawberry, Mint leaves, Yogurt and Stevia
2. Blend everything together for a minute or until desired consistency.
3. Add 4-5 ice cubes and blend again.
4) Serve and enjoy!
The totals come out to be 78.8 Calories, 2.7g Fats, 5g Net Carbs, and 6.2g Protein.
Quick and Easy KETO STRAWBERRY SMOOTHIE recipe is ready! Enjoy with your family, friends and loved ones. Thank you!
Keto Spicy Eggplant :
Keto Roti :
Keto Okra :
Keto Baingan Bharta :
Keto Poha :
Subscribe us on Youtube @
Facebook:
Twitter:
Instagram:
Pinterest:
#keto #5minutekitchen #ketosmoothie #ketostrawberrysmoothie #strawberrysmoothie #ketogenic
DISCLAIMER: This video is only intended for an informational purpose and does not constitute any legal, medical or other professional advice on any subject matter. Readers are subjected to use this information at their own risk. This channel doesn't take any responsibility for any harm, side-effects, illness or any health or skin care problems caused due to the use of our content or anything related to this.
The content is offered on an informational basis only and is not intended to be a substitute for professional medical advice, diagnosis, or treatment. Always seek the guidance of a
qualified health provider before making any adjustment to a medication or treatment you are currently using, and/or starting any new medication or treatment. All recommendations are "generally informational" and not specifically applicable to any individual's medical problems, concerns, and/or needs.