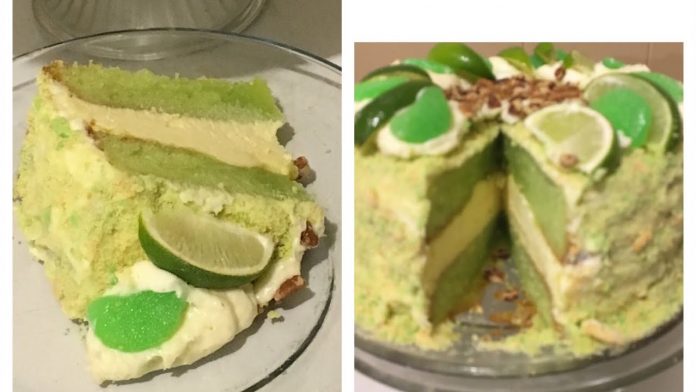 Hay my sugar foots!
I love key lime cake tart, therefore, I am going to list MY key lime cake recipe. Honestly, I advise you to choose the key lime cake of your choice. You can even use a lemon box cake:/, I don't prefer you to do that but it is solely your preference.
Kita's Key-lime Krunch Kake aka KKKK (spelling is correct)
half of a package of lime jello 1 1/2 cups granulated sugar 2 cups sifted all-purpose flour
1/2 teaspoon salt 1 teaspoon baking powder 1 teaspoon baking soda 5 large eggs1 1/2 cup vegetable oil 3/4 cup orange juice 1/2 tsp PURE vanilla extract 1/4 cup of lime juice
1 tablespoon of lime zest
PECANS
Glaze
1/2 cup of lime juice
1/2 cup of confectioners sugar
BAKE ON 350 degrees Fahrenheit for 30 minutes or until cake has browned!
Combine wet and dry ingredients starting with flour and end with flour. You can also combine and then mix all wet ingredients to all dry ingredients. Make sure you grease your two round 9 inch cake pans with shortening and flour. Dust off the remaining flour. Let cake stand for 5 minutes in the pan prior to baking. Bake your cake for 30 minutes or until the cake browns and separates from the sides. Bake your key lime cake on 350 degrees Fahrenheit or 175 degrees Celsius. Once cake has cooled glaze your cake with the lime and confectioners sugar mixture.
Cheesecake
2 packs 8 ounce cream cheese AT ROOM TEMPERATURE
2 large eggs
2/3 cups of sifted sugar
1 teaspoon of vanilla extract
Combine ingredients and bake cheesecake on 300 degrees Fahrenheit or 175 degrees Celsius for 50 minutes or until cheesecake browns, separates and is firm. Remove cheesecake from oven and let it cool for at least 3 hours.
Lastly it is time to assemble the cake. Once cake is assembled ice your cake with buttercream frosting and coat with key lime crumbles.
Key lime crumbles link:
Instagram:
KITASKITCHEN1
For ALL Business Inquiries:
Nakitabeeglam@gmail.com
If you would like to send me stuff:
Georgia Nakita Glam
P O BOX 91192
East Point, Georgia 30354-1192
Amazon Wish List