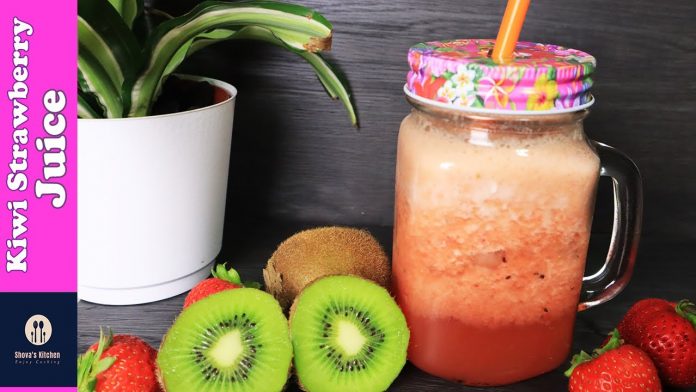 Welcome to Shova's Kitchen Channel. Thank you for watching our video. If you are visiting our channel for the first time, we request you to consider subscribe and hit the bell icon for the all new recipes. hopefully you'll like the video and share with your near and dear ones.
=====================================================
Kiwi Strawberry Juice is a perfect summer juice. Both of the fruits known as Superfood.
Recipe details stated below..
Ingredients:
Ripe Kiwi 2 pcs (skin off and cut in 4 pcs)
Strawberry 5 Pcs
Black Salt 1 Table Spoon
Honey 2 Table Spoons
Ice 7 cubes
Water 2.5 cups
Direction:
1. Place Sliced strawberry and kiwi in the blender jar.
2. Add Water
3. Add Black Salt
4. Add Honey
5. Let's blend until smooth
6. Serve with ice cubes.
8. Enjoy.
======================================================Seven Health Benefits of Kiwi
1. Helps treat asthma
2. Aids digestion
3. Boosts immune system
4. Helps prevent sickness
5. Manages blood pressure
6. Reduces blood clotting
7. Protects against vision loss
======================================================
Seven Health Benefits of Strawberry
– IMPROVES IMMUNE FUNCTIONING
– LOWERS BLOOD PRESSURE
– TREATS SYMPTOMS OF ARTHRITIS AND GOUT
– OFFERS PROTECTION AGAINST CANCER
– PROMOTES HEALTHY EYESIGHT
– REGULATES BLOOD SUGAR
– LOWERS RISK OF STROKE
======================================================
#ShovasKitchen, #KiwiStrawberryJuice, #Superfood
======================================================
Shovas Kitchen, Superfood, Superfood recipe, kiwi juice, juice, kiwi, kiwi smoothie, kiwi fruit, fruit juice, how to make kiwi juice, delicious juice, juice kiwi recipe, kiwi recipe, kiwi juice natural, healthy kiwi crush recipe, natural kiwi fruit juice recipe, summer special drink, natural kiwi juice, food se fitness, simple and easy recipes, drinks, vitamin c foods, folate rich foods for pregnancy, summer drinks, fluids, liquid, summer special, smoothie, kiwi milkshake, baby bullet, summer special drinks recipes, delicious kiwi juice, delicious kiwi fruit juice recipe, tasty recipe, strawberry, beverage, strawberry juice, drink, fruit, strawberry milkshake, fruit juice, summer drink, cocktail, drink tutorial, how-to, strawberry (food), drink recipe, strawberry kiwi juice, kiwi strawberry, kiwi strawberry juice, kiwi smoothie, strawberry drink, strawberry (food),how to make strawberry juice, strawberry kiwi, strawberry kiwi shake
======================================================
Music – www.Bensound.com
======================================================