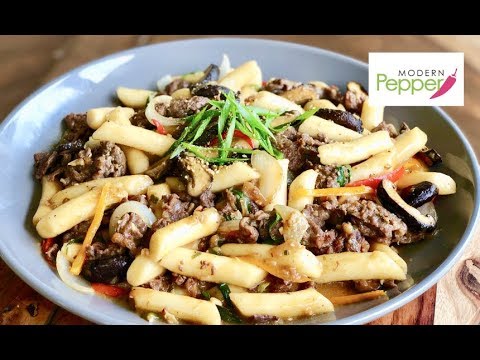 TteokBokki (aka Rice Cake) is commonly known as the Spicy Rice Cake dish.  BUT the original TteokBokki dish is GungJung TteokBokki (궁중떡볶이).  It is a "fancy" version of the Spicy Cake TteokBokki.  Unlike the spicy version, GungJung TteokBokki does not use spicy sauce or GoChuJang (Korean Red Pepper Paste).  Instead, it uses BulGoGi or Galbi, hence the "fancy" version.  Hundreds of years ago, this dish was an upscale gourmet dish that was served only to those individuals that can dine at the Korean Royal Palace/Court, hence the name Royal-Court TteokBokki. 
I am super excited to share this recipe with you!  Think of this dish as Non-Spicy Korean Gnocchi Dish w/ BulGoGi or GalBi.  And of course, I provide alternative recipe substitution options for different proteins and also for my vegan friends.
This Korean Royal Court Rice Cake Recipe Includes:
– How To Make GungJung TteokBokki w/ Step-By-Step EASY To Follow Recipe Instructions
– Paleo Friendly TteokBokki Recipe
– Vegan Friendly TteokBokki Recipe
– Mini TteokBokki/Rice Cakes MukBang. Of course, I have to taste this delicious Royal Court Rice Cake Dish with you…:-)
For my vegan/vegetarian & non-beef friendly friends, Watch BulGoGi In 5 Ways Video Recipe (Beef, Pork, Chicken & Mushroom):
If you have not seen my Spicy TteokBokki (떡볶이) with ramen noodles RaBokki (라떡볶이/)video recipe which includes a BONUS RECIPE (using the leftover tteokbokki sauce to to make spicy rice and dumpling paella…SUPER YUM!), please check it out.
Spicy Korean Rice Cake (Tteokbokki 떡볶이) + Ramen (Ra bokki 라떡볶이) – Modern Pepper #35
I will also be making Cheese TteokBokki video recipe, so MAKE SURE TO SUBSCRIBE To Modern Pepper…:-) . Yes, if you never tried Cheese TteokBokki, well you are in for a SUPER YUMMY TteokBokki TREAT.! Just imagine soft and chewy TteokBokki with perfectly melted mozzarella cheese…I'm drooling in my mouth thinking about it…YUM!
Click Here To SUBSCRIBE:
Please visit ModernPepper.com blog for this recipe @ which will include:
– Detailed list of all the ingredients
– Recipe Instructions
– Online links to purchase the ingredients and suggested kitchen gadgets for this recipe. (The product links are also listed below.)
For more about Modern Pepper and ME, please visit
If you haven't done so yet, please SUBSCRIBE to Modern Pepper's YouTube channel. I upload a NEW VIDEO RECIPE EVERY THURSDAY! I WOULD LOVE TO COOK WITH YOU AGAIN…:-)
Click Here To SUBSCRIBE:
You can also FIND & FOLLOW ME @
WEBSITE:
WOULD LOVE TO HEAR FROM YOU! PLEASE, PLEASE, PLEASE COMMENT BELOW…:-)
Also, leave me requests for future recipes for both traditional Korean cuisines and everyday meals with a Korean twist.
See you NEXT THURSDAY…:-)
Thanks for watching!
Helen
Amazon.com Links For Ingredients & Suggested Kitchen Gadgets For This Recipe. For a better shopping experience, please visit Modern Pepper's Blog For GungJung TteokBokki Recipe. Click Here:
Yuki Toppogi Rice Cake
Korean Rice Cake, Rice Ovaletts – 2 Packs
Hikari Organic Miso Paste
Ohsawa Genuine Mirin, Organic Sweet Rice Seasoning Wine for Traditional Japanese Cuisine, Aged over 9 Months for Umami Flavor
Kikkoman Manjo Aji Mirin, 17 fl oz
Sesame Seed Salt
Swanson Organic Broth, Vegetable, 32 oz. Resealable Carton (Pack of 12)
Swanson Organic Free-Range Chicken Stock, 32 oz. Cartons (Pack of 12)
Dasida Beef Flavor Soup Stock
Olive Oil Greek medal winner
Zoe Organic Extra Virgin Olive Oil 25.5 FL. OZ. tins (Pack of 2), Organic Spanish Extra Virgin Olive Oil
Kosher Salt
Peppercorns
COLE & MASON Capstan Wood Pepper Grinder – Wooden Mill Includes Precision Mechanism, 12.5 inch
Tramontina Professional Aluminum Nonstick Restaurant Fry Pan, 14″
All-Clad 7112NSR2 MC2 Professional Master Chef 2 Stainless Steel Bi-Ply Bonded Oven Safe PFOA Free Nonstick Fry Pan Cookware, 12-Inch, Silver
Wusthof Classic 8-Inch Chef's Knife
Wüsthof Twelve Piece Block Set
Wusthof Classic 7-piece Slim Knife Block Set
We are a participant in the Amazon Services LLC Associates Program, an affiliate advertising program designed to provide a means for us to earn fees by linking to Amazon.com and affiliated sites.