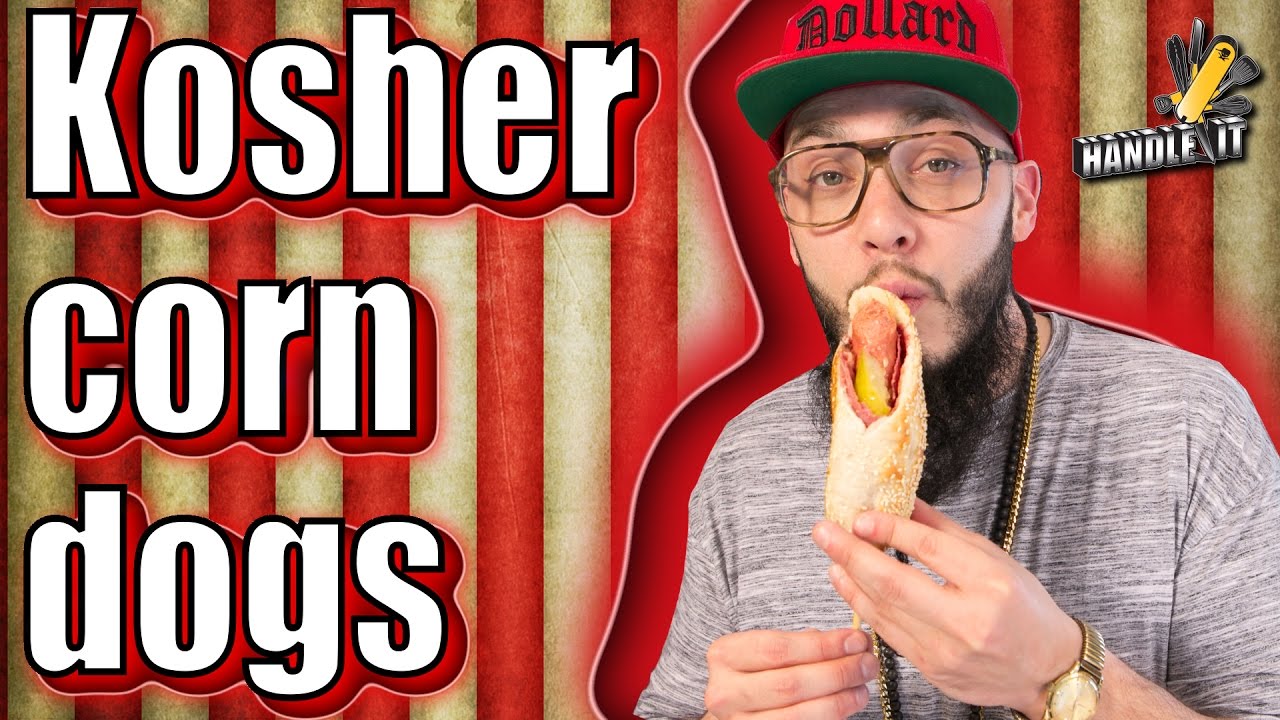 Lemme Kno teaches you a very hype recipe and brings his Jewish culture into your home with the Kosher Corn Dog!
Ingredeints:
Dough
1 1/4 Cup warm water
1 Tbsp yeast
4 1/2 Cups of flour
3 Tbsp sugar
1 Tsp salt
2 Tbsp vegetable oil
1 Cup of honey
4 Quarts of water
4 to 6 Pickle spears
4 To 6 large hot-dogs
1/2 LB smoked meat
Dipping sauce of your choice
Tools
2 Mixing bowls
1 Large pot
1 Rolling pin
1 Oven tray
Parchment paper
1 Chef knife
1 Pair of tongs or slotted spoon
Chopsticks
Step 1
In a mixing bowl combine 1 1/4 Cup of warm water, 2 Tbsp of vegetable oil, 3 Tbsp of sugar, 1 Tsp of salt and 1 Tbsp of yeast, then let it sit for 10 minutes. Once the yeast has activated, slowly mix with your hands 4 1/2 cups of flour until a dough has formed. Flour a surface and knead the dough, then store in a greased bowl covered by a towel for 45 minutes.
Step 2
Lay down some smoke meat and place one hot dog and one pickle spear together, then begin to roll the smoke meat locking the pickle and hot dog in place.
Step 3
Once the dough has risen, flour a surface and begin to roll the dough to about 1/2 an inch thick. Cut the dough into rectangles, then egg wash one end, and roll a hot dog sealing the seam completely covering the hot dog in dough.
Step 4
Boil 4 quarts of water, then add 1 cup of honey. Once the honey is dissolved boil your bagel dogs for 2 minutes on each side, then place on a tray lined with parchment paper and sesame seeds. Top with more sesame seeds and bake in the oven at 475 degrees Fahrenheit for 15 to 20 minutes.
Step 5
When the bagel dogs are cooked skewer with chopsticks and serve with mustard or dipping sauce of your choice.
Check out Harley's Video Diaries –
We have a #YouTubeGaming Channel:
Follow the guys!
@harleyplays @princewallick @lemme_kno @epicgrossguy @cooldan @santos_mtl
LIKE/FAVORITE and SHARE for new meals every week!
And order the COOKBOOK from any of these links:
Amazon: …
B&N: -…
BAM: …
iBooks: …
Need tools to cook with? Order the cooking arsenal:
Kosher Corn Dogs – Handle It