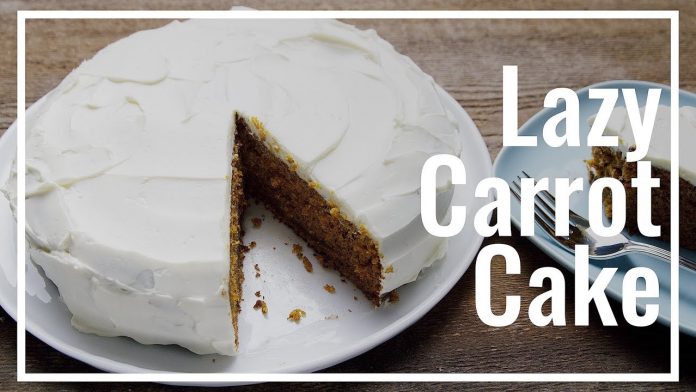 Lazy Carrot Cake
C'mon – you know there are days when you are just too lazy to bake a cake… This should help you out.
Ingredients:
14 ounces (400g) carrots, roughly chopped
1 cup (120g) pecans 
1 cup (175g) brown sugar 
½ cup (110g) sugar 
1½ cups (225g) all-purpose flour 
1 tsp (5 mL) baking powder 
1 tsp (5 mL) baking soda 
2 tsp (10 mL) ground cinnamon 
1/2 tsp (2 mL) nutmeg
1/4 tsp (1 mL) ground cloves
1/4 tsp (1 mL) allspice
½ cup (125 mL) vegetable oil 
¼ cup (70g) plain yogourt 
2 eggs 
2 tsp (10 mL) pure vanilla extract
Optional Icing:
9 ounces (250g) cream cheese, softened 
¼ cup (50g) mascarpone 
⅓ cup (55g) icing sugar 
Method:
Preheat oven to 160°C (325°F).
Pulse the carrot in a food processor until finely chopped.
Add everything else.
Process, until combined. 
Scrape down the bowl a couple times.
Pour the mixture into a 9" (22cm) round springform cake pan.
Bake for 45–60 minutes,.
Allow to cool in the pan. 
To make the Icing, whip the cream cheese and ricotta with a hand blender.
Then add lemon  juice, and icing sugar and whip until smooth.
Spread the icing over the cooled cake to serve. 
Serves 10–12.