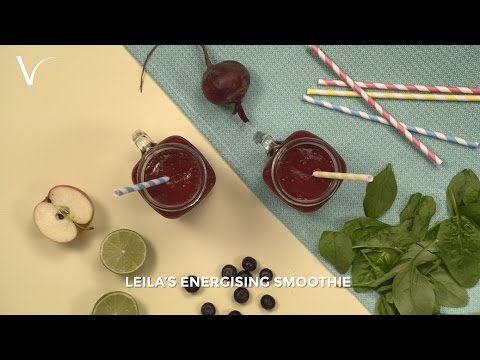 We love this fan recipe from Leila. Her Superfood Energising Smoothie is perfect as a mid-morning or mid-afternoon pick-me-up. It'll satisfy your cravings and make a dent in your five-a-day!
We all know smoothies are good for you, but they can often be packed full of sugar. Leila's Superfood Energising Smoothie perfectly balances the flavours for a healthy snack. Banana, apple and blueberries give this recipe a yummy sweetness, while the addition of beetroot, spinach and coconut water offer a vitamin-fuelled boost. The avocado gives the smoothie a creamy texture, making it feel even more indulgent.
Leila steps up the recipe by blending in half a tray of our Veetee Wholegrain Brown Rice & Quinoa for a slow release of energy; quinoa is also high in protein, so this recipe is great for keeping hunger at bay. A rice blend offers a smoother texture than the more traditional oats. Our Heat & Eat rice range is so convenient for quick recipes like this, so keep a pack ready for your daily smoothies.
We have plenty of healthy recipes on our Veetee YouTube channel, including more Fan Recipes, like Danielle's Warm Summer Salad. We love hearing what you've been doing with our Veetee Heat & Eat range. You can send us your own recipes here:
Where Else Can You Find Us?
Website:
Facebook:
Twitter: