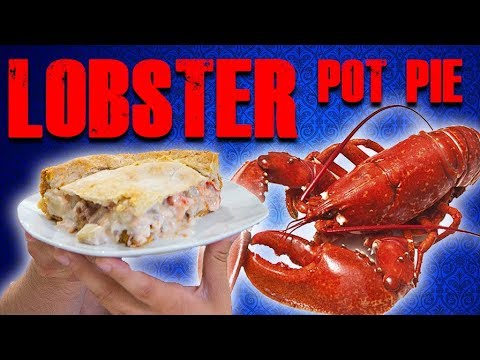 This week Gross Guy teaches you how to make Lobster Pot Pie! It's like Chicken Pot Pie, but with lobster and clam chowder!
Ingredients
1 Package of Lobster meat
1 Can of clam chowder
1 Package of Bacon
Dough
2 1/2 Cups of Flour
2 Tsp' of Baking powder
1/2 Cup of Butter
1/2 Cup of cold Milk
Tools
1 Oven tray
Parchment paper
2 Mixing bowls
1 Pie tray or colapsable cake can
1 Chef knife
1 Cuthing board
Step 1
Line an oven tray with parchment paper the begin to lay bacon strips vertically. Then lay a strip of bacon horizontally weaving it with each vertical bacon strip.
Step 2
In a bowl add 2 1/2 cups of flour, 2 tsps of baking powder and 1/2 a cup of butter then mix well until flour is crumbly. Add flour mixture to 1/2 a cup of cold milk and mix well until a dough forms.
Step 3
Mix clam chowder and lobster together.
Step 4
Line a pie tray or colapseable cake pan with dough. Be sure to save 1/4 of the dough for the top crust.
Step 5
Lay bacon weave on the bottom of the crust and fill with lobster chowder then top with remaining dough and bake in the oven at 425 degrees Fahrenheit. Once pie baked let cool for 10 minutes then serve.
Check out our new Jerky available in Walmart across the USA!
Check out Harley's Video Diaries –
We have a YouTubeGaming Channel:
Follow the guys!
@harleyplays @chefatari @epicgrossguy @cooldan @itsmikesantos
LIKE/FAVORITE and SHARE for new meals every week!
Lobster Pot Pie – Handle It