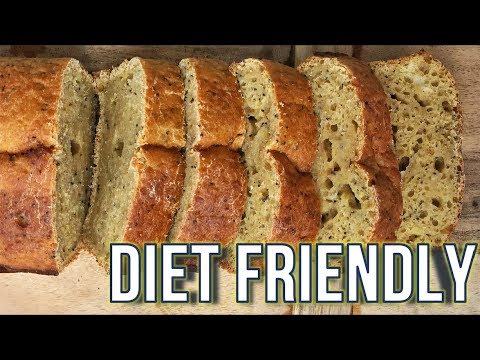 In this video I show you how to make a low calorie, low fat lemon poppyseed loaf/cake. A great newbie (me) baking recipe as it is quick and easy, and the calorie content is huge plus as well. It's one of my favourite recipes, I just love the combination of lemon and poppyseed! It's also quite high in protein as I use skyr (and apple sauce) as a substitute for butter or oil. In terms of ingredients, there are things that I usually have sitting around anyways and I'm sure you have too (and if not then this is a great time to stock up on lemons, poppyseed, flour, sweetener, skyr(yogurt), apple sauce etc. because they are ingredients that can be used in SO many delicious things!). Hope you try this out 🙂
Link to blog post:
Ingredients
* 110g of spelt flour
* 110g of regular flour
* 120g of skyr or fat free greek yoghurt
* 1 tablespoon of poppyseeds
* Sweetener equal to 150g of sugar (I'm using Sukrin Gold which is a Brown sugar sweetener, so if you're loaf turns out a lot lighter than mine then thats the reason)
* 80g of applesauce
* 2tsp of baking powder
* Pinch of salt
* 3 whole eggs
* 1tsp of vanilla extract
* Zest of 2 lemons
Method
1. Preheat oven to 180 degrees celsius/350 degrees fahrenheit and spray a loaf tin with cooking spray
2. Combine dry ingredients in a large bowl: Place flour, sweetener, poppyseeds, sweetener and salt in a large bow. Mix all ingredients together and create a well in the center of the bowl
3. In another bowl mix the rest of the ingredients: Whish your eggs together with the skyr, applesauce, vanilla extract and lemon zest
4. Add the wet mixture to the well of the dry mixture and fold ingredients together until you have formed a sticky dough. 
5. Add the batter to your loaf tin and bake for about 50 minutes: If you're not sure whether it's done, insert a metal skewer (or even a knife or fork or something) into the middle of the loaf. If it comes out clean without sticky batter on it, it is done.
6. Enjoy: If you wan't you can make a frosting or serve with some cream cheese for extra deliciousness. I think its perfect on it's one!
IG: instagram.com/thobrandt
WebSite: ifandiifym.wordpress.com