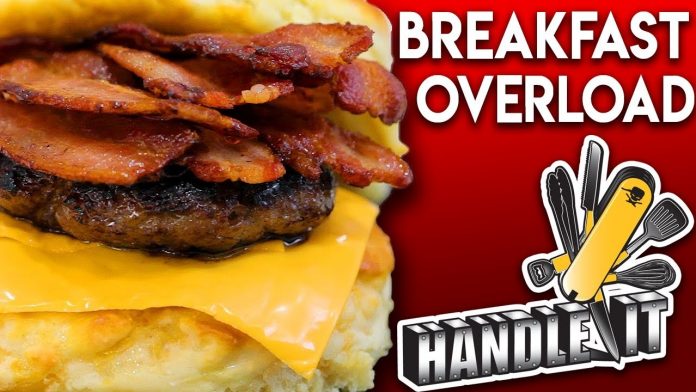 This week Ameer teaches you how to make a Mac & Cheese Breakfast Biscuit Burger! It's amazing make it now!
Ingredients
1/3 cup of milk
20 Slices of kraft singles
1 1/2 Cup of elbow noodles
1 Pack of bacon
1 Package of breakfast sausage
10 Slices of deli ham
1 Package of shredded hash browns
2 Eggs
Salt and pepper to season
1/4 Cup hash browns
1/4 Cup of jalepenos
1 Tsp baking powder
1 Tsp salt
1 Tsp baking soda
2 Cups of buttermilk
2 Cups of flour
Tools
1 Cutting board
1 Chef knife
1 Oven tray
2 Mixing bowls
2 Small sauce pans
1 Wooden spon
1 Spatula
2 Frying pans
1 Circular cookie cutter
Parchment paper
Cooking spray
Step 1
Heat up a small sauce pan with 1/3 cup of milk and add cheese slices while stirring slowly until the cheese sauce is thick.
Step 2
Bring a pot of water to a boil and cook 1 1/2 Cups of elbow noodles for 8 to 10 minutes until tender.
Step 3
Cut half you pack of bacon into bacon bits and cook in a frying pan with ham and ground sausage for 10 mintues. Cook the bacon strips in a seperate pan for 10 minutes.
Step 4
Oil a pan and cook shredded hash browns for 5 minute's until golden brown and crispy
Step 5
Whisk 2 eggs then butter a pan and cook scrambled eggs until no longer runny season with salt and pepper.
Step 6
In a mixing bowl add noodles, Cheese sauce, bacon bits, ham, sausage, hash browns and jalepenos then mix well.
Step 7
Grease up a circular cookie cutter then stuff with mac and cheese mixture do this twice for a top and bottom bun then refrigerate.
Step 8
Remove breakfast sausage from its casing then form a patty with it and cook it in a frying pan for 10 minute's.
Step 9
In a mixing bowl add 2 cups of buttermilk, 1 Tsp of baking powder, 1 Tsp baking soda, 1 Tsp of salt and 2 cups of flour then mix well. Dip mac and cheese pucks in biscuit batter covering completely then bake on oven tray lined with parchment paper at 400 degrees Fahrenheit for 10 to 15 minutes.
Step 10
Use one of the mac and cheese buns as a base and place 2 slices of cheese, sausage patty and bacon strips then top with other mac and cheese bun.
Check out Harley's Video Diaries –
We have a #YouTubeGaming Channel:
Follow the guys!
@harleyplays @chefatari @epicgrossguy @cooldan @itsmikesantos
LIKE/FAVORITE and SHARE for new meals every week!
Mac & Cheese Breakfast Biscuit – Handle It