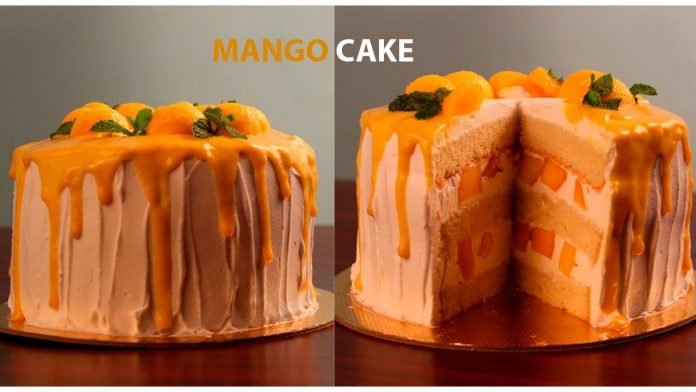 An easy step by step mango cake recipe that is both delicious and an absolute eye candy.
Measurements:
1 Cup = 250 ml
Ingredients
Sponge Cake (6 X 3 inch tin) :
3 Eggs
1/2 Cup (110g) Sugar
3/4th Cup (100g) Flour
1/4th Tsp Salt
1.5 Tbsp Oil
2 Tbsp Milk
1/2 Tsp Vanilla
Sugar Syrup:
1/3 rd Cup Sugar
1/3 rd Cup Water
Whipped Cream:
1.5 Cups (350g approx) Whipping cream
1/4th Cup Sugar
Mango Ganache:
40 g White chocolate
1 Tbsp Whipping cream
2 Tsp Warm mango pulp
Description:
1. Preheat the oven to 160°C or add about 1.5 to 2 cups salt to the cooker or deep bottomed pan and remove the gasket and whistle. Place a steel ring or a trivet in the center. Put the lid and preheat the cooker.
2. Separate the egg whites and beat them with electric mixer while gradually adding sugar till firm. Add yolks and gently fold them in.
3. Add the sifted flour and salt to the egg mix in 2 batches and gently fold in after each batch.
4. In a separate bowl mix the oil, milk and vanilla. Add some batter to this and mix thoroughly. Add this mix back to the batter and fold it in.
5. Pour the batter into a 6X3 inch or 7X2 inch cake tin. Remove the air bubbles by running a skewer in circular motion or by tapping the tin thrice on the work surface.
6. Bake in preheated oven for 40 min or in the cooker for 30 – 35 min on medium flame. Check after 30 min.
7. Make the sugar syrup by dissolving the sugar in water on gas top.
8. For the mango ganache, warm some mango pulp in a pan. Melt the white chocolate and cream in microwave for 20 sec or on double boiler. Add the warm pulp to the chocolate ganache and mix till combined. Let it cool.
9. Whip the cream while gradually adding the sugar to stiff peaks.
10. Level the cake to get three layers.
11. Place one layer of cake on the cake board and soak it with sugar syrup. Add some whipped cream and spread it uniformly. Layer some mango slices and cover them with more whipped cream. Repeat with the other layer. Finally cover the cake with whipped cream and pour the mango ganache over the edges. Chill in the refrigerator for 30 min and decorate with mango and mint.