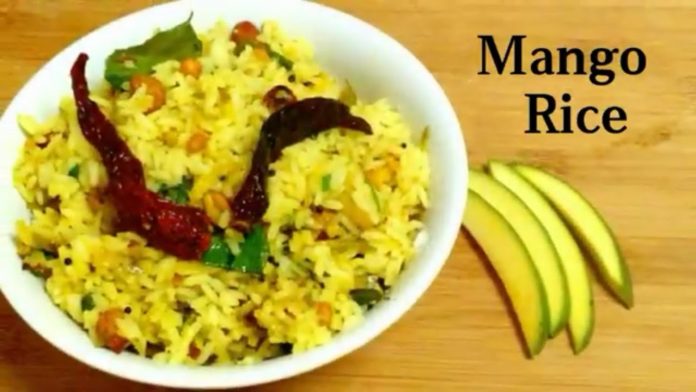 In this video I'm going to share how to make green mango / Kairee rice at home.Very easy recipe- Rice for Lunch.A simple south indian style mango rice made with raw sour mango.Please like ,share and comments on this recipe and don't forget to subscribe my channel.
Serving -2
Ingredients are:-
1.Grated green / raw mango-1.5 cup
2.Cooked rice-2.5 cup
3.Urad dal-1 tsp
4.Chana Dal-1 tsp
5.Salt-to taste
6.Curry leaves-8-10
7.Dry Red chilli-2
8.Green chilli-2
9.Peanuts-2 tbsp
10.Grated coconut-1 tbsp
11.oil-2 tbsp
12.Asafoetida/hing-1 pinch
13.Chopped coriander leaves-1 tbsp
14.Chopped ginger-1/2 tsp(optional)
15.Turmaric-1/2 tsp
Method:-
1.Heat up oil in a pan , once oil heated add mustard seeds and saute for few seconds.
2.Then add chopped ginger and peanuts
Fry them for few minutes.
3.Then add green chillies,dry chillies,hing and curry leaves.
4.Keep the flame on low and add chana dal,urad dal , turmeric and mix them well and fry for few seconds.
5.now add grated raw mango and mix it well.
6.Cook it for 3-4 minutes and stir it between.
7 Then add cooked rice and salt and mix it well.
8.Cover it and cook for 2 minutes on simmer flame.
9.Now add grated coconut ,chopped coriander leaves and mix it well.
10.Mango rice is ready.Serve it hot.
Serve it with pickle,papad,or any curry.
For more recipe subscribe to my channel:-://www.youtube.com/channel/UC3zooCy62Qt7rG-vXKucVhg?view_as=subscriber
facebook:-
printest:-
Please watch: "Fruits Pafait"
Please watch: "How to make Paneer at home!! Homemade Paneer/ Cottage cheese recipe"
Please watch: "Strawberry Raspberry Smoothie || Berry smoothie ||Pink smoothie recipe || Delicious food recipes |||"