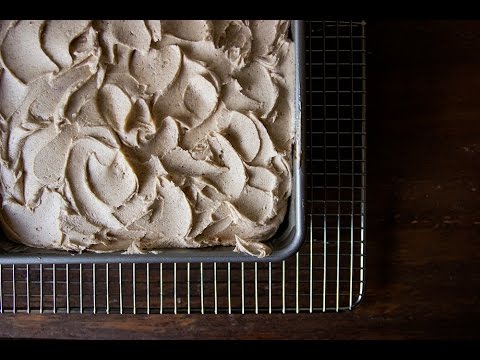 This recipe is slightly out of season but found the footage in my files from November. Thought it would be ok to upload it anyway! Hope you enjoy this simple recipe! Also new spring recipes coming soon!!
Cake Recipe:
1 stick unsalted european style butter
1/2 cup light brown sugar
2 tbsp. granulated sugar
2 eggs
3/4 cup maple syrup
1 1/4 cups all purpose flour
1 tsp. baking powder
1/4 tsp. baking soda
1/2 tsp. kosher salt
1/3 milk
Cinnamon Frosting
1 stick unsalted european style butter
1 1/2 cups powdered sugar
1/2 tsp salt
2 tbsp. good quality cinnamon
Instructions:
In a bowl of a stand mixer beat together butter and sugars together until well combined. Whisk 2 eggs and add to butter/sugar mixture. Next pour in the maple syrup until well combined. In a medium bowl whisk together flour, baking powder, and salt. Add the dry ingredients to the wet ingredients and mix on low speed until combined and the mixture comes together. Remove the bowl from the stand mixer and using a rubber spatula mix the milk in by hand. Pour into a square baking pan that has been buttered and floured.
Bake in 350 oven for 30-40 minutes.
Frosting:
In a bowl of a stand mixer beat the butter, powdered sugar, salt, and cinnamon together on medium/high speed until light and fluffy.
website:
twitter:
instagram: ariannatrevino_
Produced, Baked, Filmed, and Edited by: Arianna Trevino
TwentyTwoPlates is a baking channel dedicated to homemade seasonal desserts!
I film all videos in a tiny corner of my kitchen in Austin, Texas!