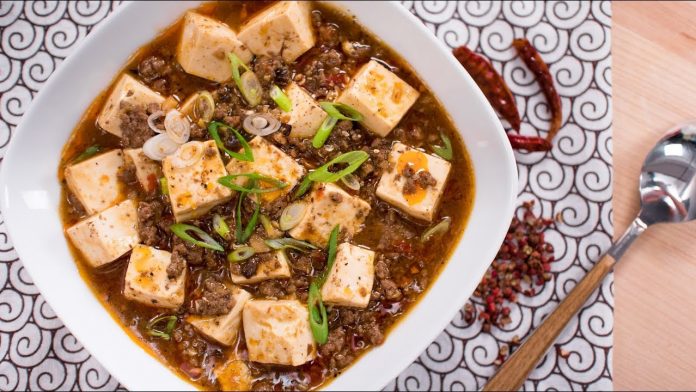 This is easily my favourite Chinese recipe. Soft, silky tofu in a rich, spicy, flavourful meat sauce…it's always a crowd pleaser. There are a few ingredients to get to know if you haven't had much experience with Chinese cooking, but the process is really straight forward and can be a relatively quick dinner. It also keeps well, so make lots and have extra for lunch the next day!
Sichuan peppercorns, broad bean paste (toban djan), Chinese black beans, are key ingredients that make up the uniquely delicious flavours of this dish. The other important thing is to get the right kind of tofu—you want it smooth and soft but not so soft that it will fall apart in the dish. So I don't go with soft or silken tofu (although you can, just be very gentle with it), the one I use if what's referred to as "traditional tofu" or "smooth tofu", which in terms of firmness is closest to "medium firm" tofu but I think it's a touch softer. You will want to look for this at a Chinese grocery store where they have lots of tofu options, you likely won't find this kind of tofu at a Western supermarket. Definitely not firm tofu for this dish though!
INGREDIENTS & KITCHEN TOOLS I USE:
WRITTEN RECIPE:
SUPPORT THE SHOW:
MY COOKBOOK:
CONNECT WITH ME!
—————-
About Pai:
Pailin "Pai" Chongchitnant is the author of the Hot Thai Kitchen cookbook, co-host of a Canadian TV series One World Kitchen on Gusto TV, and creator and host of the YouTube channel Pailin's Kitchen.
Pai was born and raised in southern Thailand where she spent much of her "playtime" in the kitchen. She traveled to Canada to study Nutritional Sciences at the University of British Columbia, and was later trained as a chef at Le Cordon Bleu culinary school in San Francisco.
After working in both Western and Thai professional kitchens, she decided that her passion really lies in educating and empowering others to cook at home via YouTube videos, her cookbook, and cooking classes. She currently lives in Vancouver, and goes to Thailand every year to visit her family. Visit her at