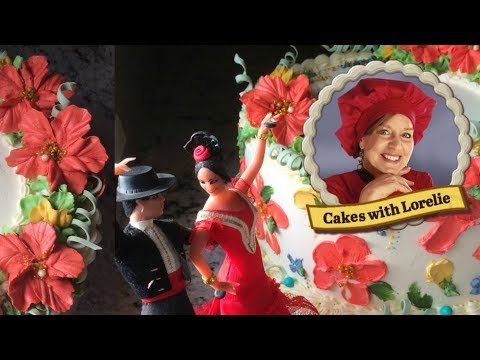 Learn how to make a marble cake recipe from scratch. Swirl my buttermilk chocolate cake recipe and my yellow cake or vanilla cake together in the pans for the best of both worlds.
These marbled cake layers are filled generously with whipped cream and Peaches. Also in this cake tutorial, you will learn one way to fix a lopsided cake.
Stay tuned for the textured buttercream painting tutorial information
Share YOUR cakes and stories at Wedding Cakes For You WEBSITE
***SUBSCRIBE***To This Channel: For More of Wedding Cakes For You Delicious Recipe and Cake Decorating Videos
NEWSLETTER: Claim your FREE copy of "Top Five Buttercream Recipes" when you subscribe to Cakes with Lorelie
***MY BOOKS***
BOOK on Amazon: PAPERBACK and KINDLE: "Wedding Cakes with Lorelie Step by Step"
E-BOOK "Wedding Cakes with Lorelie Step by Step:
RECIPE E-BOOK: PDF Format
***My Favorite Products***
AMAZON store for all my favorite cake decorating tools and supplies
ENJOY: Please Share This Video With Your Friends and Leave your comments and questions below.
Recap of the video
0:23 Prepare your cake pans and a look at the chocolate buttermilk cake batter and the Yellow batter
1:36 Filling your pans and swirling the two batters together
3:32 Information on baking and determining when your cakes are done.
4:50 Removing the finished cakes from the oven, wrap and refrigerate
5:28 About the Peaches and whipped cream filling and how to prepare it
7:17 Putting the chilled layers together. Sticky side down on the cake board
8:34 Fixing a lopsided cake
9:58 Filling with whipped cream and layering on the Peaches
11:20 Crumb coating and final coat of Italian meringue buttercream.
12:24 The decorated Marble cake
Lorelie Carvey
Baking and Cake Decorating Consultant
Wedding Cakes For You Social Pages
**Facebook
**Pinterest
**Instagram
———————————————————————————————–
Music Credits: Life of Riley by Kevin MacLeod is licensed under a Creative Commons Attribution license ()
Source:
Artist:
RECIPES used in this video
Chocolate Buttermilk
Vanilla or Yellow Cake
Whipped Cream
Italian Meringue Buttercream
Title: Marble Cake Recipe