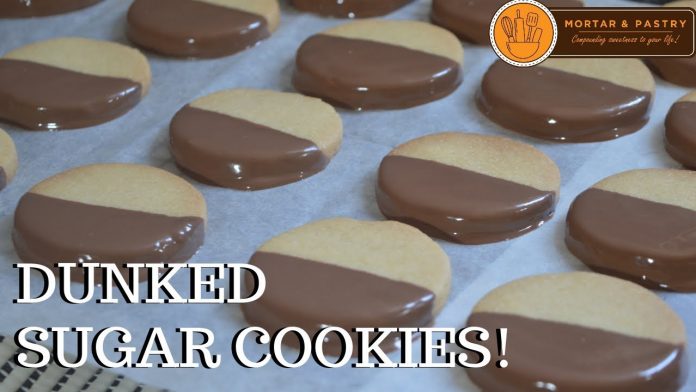 Level up your crunchy sugar cookies with chocolate! Enjoy these milk chocolate-dunked sugar cookies with that crunch full of buttery, sweet and salty chocolatey flavor! You may add chocolate chips or sprinkles on the chocolate side before it sets, or drizzle some more melted white chocolate for accent!
Ingredients:
2 ¾ cups all purpose flour
1 tsp baking pwder
1 tsp salt
1 cup (225g) softened butter
1 ½ cup sugar
1 egg
1 tsp vanilla
Bake them at 180C for 20 minutes or until light golden brown.
This recipe makes 36 pieces sugar cookies of this size. All cookies can be half-dunked in 180 grams melted chocolate.
We would love to see your works! Please tag us on Instagram and Facebook @mortarandpastry or use the hashtag mortarandpastry and show us your creations!
LIKE, COMMENT, SHARE & SUBSCRIBE!
LET'S CONNECT!
SUBSCRIBE TO OUR CHANNEL:
FACEBOOK:
INSTAGRAM:
CHECKOUT SOME MORE M&P RECIPES!
Trending NO BAKE CHOCOLATE DREAM CAKE!
Trending MILO CAKE!
CONDENSED MILK BUTTERCREAM RECIPE:
BOILED ICING:
MINI CHEESECAKE RECIPE:
BLACK FOREST CAKE FLOAT RECIPE:
MUSIC:
Spring Forward
Prizefighter