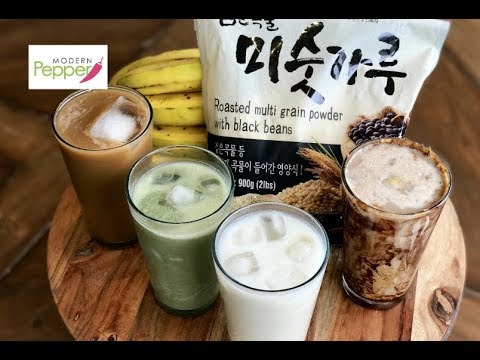 Misugaru is a classic Korean drink which consists of a variety of roasted multi-grains turned in super fine powder. It is enjoyed as Healthy Protein Shake from little kids to grandparents. Misugaru is Korea's ultimate Super Food drink that is loaded with protein and it has been around for centuries. AND it is super yummy in taste with its natural sweet and nutty fragrance. (No, it does not taste or smell like peanuts.) It smells like a freshly toasted bread…SO YUM! Also, it does not have that "industrial-grade taste" of many protein powders on the market, leaving you that weird and heavy aftertaste. Misugaru, on the other hand, makes you wanting more because of it s smooth aftertaste.
This video recipe will cover:
– A brief overview of Misugaru
– Four different ways of enjoying Misugaru shakes: Protein Shake Recipes
Please visit ModernPepper.com blog for this recipe @ which will include:
– Detailed list of all the ingredients
– Recipe Instructions
– List of Korean markets in the San Francisco Bay Area
– Online links to purchase the ingredients and suggested kitchen gadgets for this recipe. (The product links are also listed below.)
For more about Modern Pepper and ME, please visit
If you haven't done so yet, please SUBSCRIBE to Modern Pepper's YouTube channel. I upload a NEW VIDEO RECIPE EVERY THURSDAY! I WOULD LOVE TO COOK WITH YOU AGAIN…:-)
Click Here To SUBSCRIBE:
You can also FIND & FOLLOW ME @
WEBSITE:
WOULD LOVE TO HEAR FROM YOU! PLEASE, PLEASE, PLEASE COMMENT BELOW…:-) Also, leave me requests for future recipes for both traditional Korean cuisines and everyday meals with a Korean twist.
See you NEXT THURSDAY…:-)
Thanks for watching!
Helen
Amazon.com Links
Misugaru
Korean Instant Coffee Sticks w/ Sugar and Creamer Powder
Variety Pack:
Green Superfood Organic Powder with Wheat Grass and Greens
100% Pure Raw & Unfiltered Honey – Kosher Certified
Stainless Steel Shaker Balls
Plastic Blender Bottle and Shaker Ball Set
Professional Grade Cocktail Shakers
Pint Glass
VitaMix 5200 Blender Professional Grade (64 oz Container)
VitaMix Certified Refurbished (2 Speed Blender)
We are a participant in the Amazon Services LLC Associates Program, an affiliate advertising program designed to provide a means for us to earn fees by linking to Amazon.com and affiliated sites.