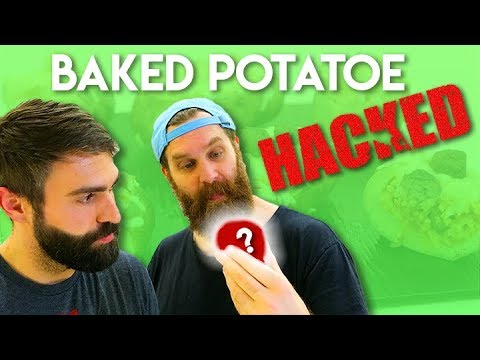 This week Ameer makes a Monte Carl Pastatoe, and the Sauce Boss helps him eat it! Learn how to make it now!
Ingredients
4 Large baking potatoes
Vegetable oil
Sea salt
2 Chicken breast
1/4 Lb ground beef
Salt and pepper
1 Pack of Fettuccine noodles
1 Pack of Spaghetti noodles
1/2 Cup of Alfredo sauce
1/2 Cup of tomato sauce
1 Cup of mozzarella cheese
Tools
1 Oven tray
Tinfoil
1 Chef knife
1 Cutting Board
2 Mixing bowls
2 Frying pans
2 Large pots
1 Slotted spoon
1 Pair of tongs
1 Food processor
Step 1
Line a tray with tin-foil and cover with vegetable oil and sea salt. Cut 1/4 inch off the top of potatoes and lay face down on the tray and bake in the oven a 450 degrees Fahrenheit for 1 hour.
Step 2
Cut chicken breast into small pieces and season with salt and pepper then cook in a frying pan on medium heat with vegetable oil.
Step 3
Season ground beef with salt and pepper then form small meatballs and cook in a frying pan on medium heat.
Step 4
Boil two pots of water and cook spaghetti and fettuccine noodles. Once the noodles are cooked pulse in a food processor until small bits.
Step 5
Combine chicken, fettuccine noodles and Alfredo sauce together then mix well. Combine meatballs, spaghetti noodles and tomato sauce together then mix well.
Step 6
Once the potatoes are cooked hollow out the insides like a canoe and fill with pasta then top with shredded mozzarella cheese and garnish with remaining pasta then bake in the oven at 400 degrees Fahrenheit for 5 minutes until cheese is melted.
Check out Harley's Video Diaries –
#YoutubeCooking #Cooking #Food #Recipes
We have a YouTubeGaming Channel:
Follow the guys!
@harleyplays @chefatari @epicgrossguy @cooldan @itsmikesantos
LIKE/FAVORITE and SHARE for new meals every week!
Monte Carlo Pastatoe – Handle It