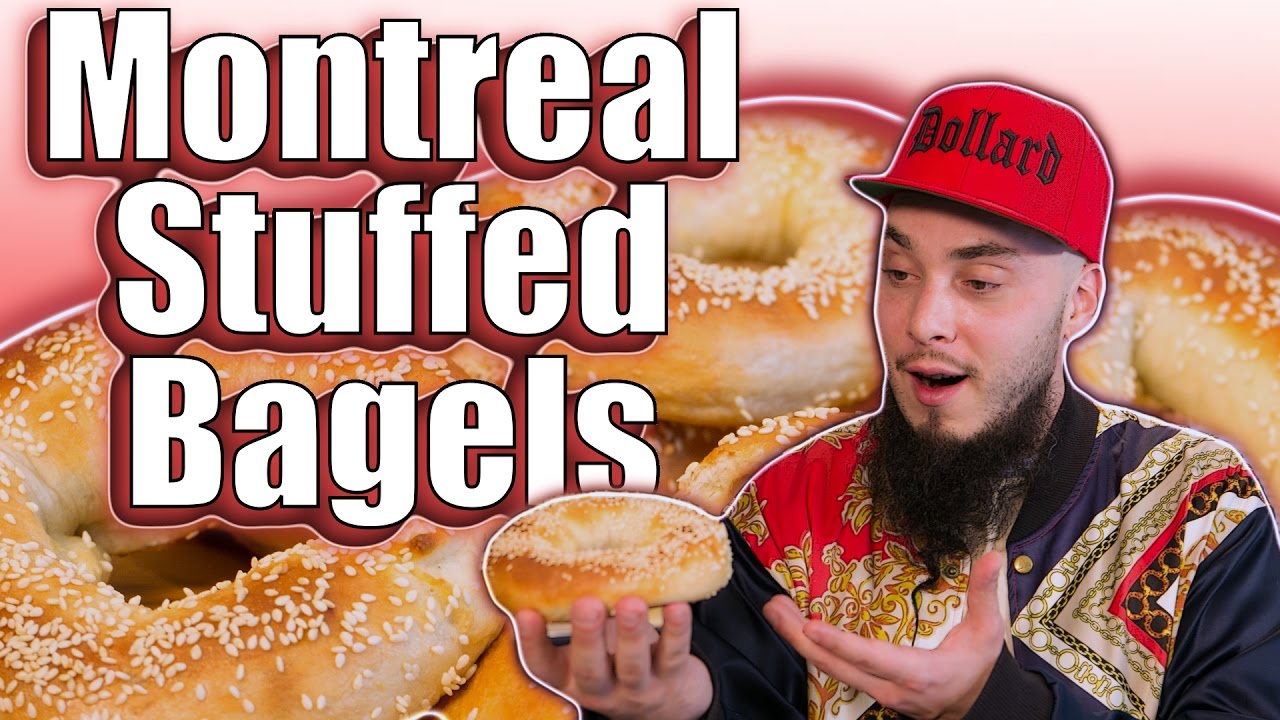 Lemme Kno teaches you how to make Montreal Stuffed Bagels, stuffed with peanut butter, Nutella, and cream cheese. They melt deliciousness into your mouth!
Ingredients
1 1/4 Cup of water
4 1/2 Cups of bread flour
3 Tbsp of sugar
1 Tbsp of salt
2 Tbsp of vegetable oil
1 Tbsp of yeast
1 Cup of cream cheese
1 Cup of peanut butter
1 Cup of Nutella
1/4 Cup of sesame seeds
1 Cup of Honey
4 Quarts of water
1 Egg
Tools
1 Large pot
2 Mixing bowls
3 Large zip lock bags
1 Chef knife
1 Rolling pin
1 Slotted spoon
Step 1
In a mixing bowl, add 1 1/4 cup of warm water , 3 Tbsp sugar, 1 Tbsp salt, 2 Tbsp vegetable oil, and 1 Tbsp yeast, then let sit for 10 minutes to let the yeast activate. After 10 minutes add 4 1/2 Cups of flour to the yeast, as you mix slowly, until a dough is formed. Place the dough in a greased mixing bowl and let rise for 30 minutes.
Step 2
Knead the dough out on a floured surface. Then cut a piece of the dough off, and form a sausage-like shape. Roll it out with rolling pin. Repeat this step for the rest of the dough.
Step 3
Mix cream cheese ,peanut butter and 3 Tbsp sugar together then add to a zip lock bag, and apply to the dough. Fold the dough over, and seal the seams with egg wash, then form a circle.
Step 4
Boil four Quarts of water, and stir in 1 cup of honey/maple syrup. Boil each bagel on each side until it floats.once all the bagels are cooked, sprinkle sesame seeds, and bake in the oven at 450 degrees Fahrenheit for 15 to 20 minutes.
Ready to serve!
Check out Harley's Video Diaries –
We have a #YouTubeGaming Channel:
LIKE/FAVORITE and SHARE for new meals every week!
And order the COOKBOOK from any of these links:
Amazon: …
B&N: -…
BAM: …
iBooks: …
Need tools to cook with? Order the cooking arsenal:
Montreal Stuffed Bagels – Handle It