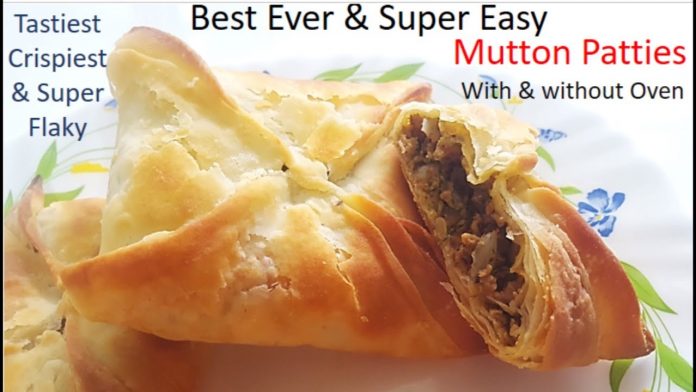 For the written recipe :
Homemade Garam Masala recipe :
Mutton Puff Pastry Recipe with Homemade Dough/Easiest Mutton patties recipe by My Flavours/Keema Kachori recipe with step by step process, important tips and precise and detailed video. It is a very tasty mutton starter or mutton snacks recipe which can be easily prepared during Ramadan, for Iftar or for any party or occasion.
Mutton patties / Keema Pattie is a very easy to make mutton starter recipe made with mince mutton. In this mutton recipe, you can easily replace mutton keema, with chicken keema.
Keema / Qeema is a very versatile base ingredient with which we can make variety of starters, anacks and curries. Whether its mutton keema or chicken keema we can prepare mutton cutlets or chicken cutlets, chicken patties, keema naan, keema samosa, keema bread rolls, keema rolls, mutton keema parantha, mutton keema samosa, mutton keema fry, mutton keema tikki, keema parantha, keema ke koftay, keema bread roll, keema cutlet, mutton keema kebab, chicken keema patties, aloo keema patties and many more items.
And today in this post we are going to make mutton patties or mutton puff pastry that too with homemade pastry dough.
For patties we have to get puff pastry sheets from market or have to prepare pastry sheets at home with lots and lots of butter. And everyone know that making puff pastry sheets at home is no doubt a very tedious job; as for pastry sheets the dough has to be rolled and folded for around 5 to 7 times (on an interval of few hours in between every fold) to get those layers and flacks.
But as concern to my puff pastry; it is completely a super easy and instant recipe. As we don't have to waste hours in rolling, folding and chilling the pastry dough. With this recipe you can make and serve patties within 45 minutes and that too with very little butter and yet the end result you get, is the same flaky patties, but much more lighter and crisper then the store bought !!
Authentically patties are baked in oven, but if you don't have oven, you can easily fry these patties and enjoy it as a flaky kachori.
The patties are soo light and flaky with such an amazing taste that you can easily have 2 to 3 of these patties at a time.
If you like my recipe please subscribe to my youtube channel 'My Flavours' to watch all the recipes. And don't forget to LIKE, SHARE the recipe……
Ingredients:
(Makes 12 mutton patties, mutton puffs or keema kachori)
For making dough for puff pastry
• All purpose flour (maida) 2 ½ cup
• Salt 1 tsp
• Water little less than 1 cup
Keema stuffing or mutton stuffing
• Minced mutton (keema) 500 gms
• Oil 2 tbsp
• Onions (chopped) 3 -4 large (onions must be almost equal to the quantity of keema, when measured in cups)
• Garlic 1.5 tbsp chopped
• Salt according to taste
• Turmeric powder (haldi) ¼ tsp
• Red chili powder 1 tsp
• Coriander powder (dhania powder) 1 tsp
• Homemade garam masala powder 1 tsp
• Dry mango powder (amchur) ½ tsp
• Green chili 1 (finely chopped)
• Fresh coriander 2 tbsp (finely chopped)
• Mint ( dry or fresh ) 2 tbsp
For Pattie layers
• Butter (soft at room temperature) 50 gms
• All purpose flour 3 tbsp
• More butter for basting or greasing the patties
MORE OIL FOR FRYING
#muttonpatties #puffpastry #myflavours #muttonrecipes #keemarecipes #howto #muttonkeema
Keema snacks, keema patties, keema puff patties, keema starters, keema recipes, mutton recipes, mutton starters, mutton patties, mutton puff patties, puff pastry dough, keema kachori, kchche keema recipe, keema banana ki recipe, how to make puff pastry , mutton keema starter, mutton keema, mutton banana ki vidhi, mutton keema recipe, mutton keema recipe in hindi, eid recipe, Ramadan recipe, party snacks idea, quick mince snacks, mince meat, how to make mince patties at home, how to make keema patties, keema patties recipe, keea patties puff pastry, khasta keema chicken kachori, khasta keema kachori, recipes for iftar, kachori, kachori recipe, khasta kachori , how to make keema kachori, easy keema kachori recipe
Mutton keema starter, chicken keema recipe, keema dishes pakastani, mutton keema recipe, keema recipe indian, keema dishes recipe, pakistan keema kachori recipe, , keema kachori ki recipe, chicken kachori
pakastani keema patties
Official Website :
********************************************************************
Click To SUBSCRIBE :
********************************************************************
Bounce Ball by Twin Musicom is licensed under a Creative Commons Attribution licence ()
Source:
Artist: