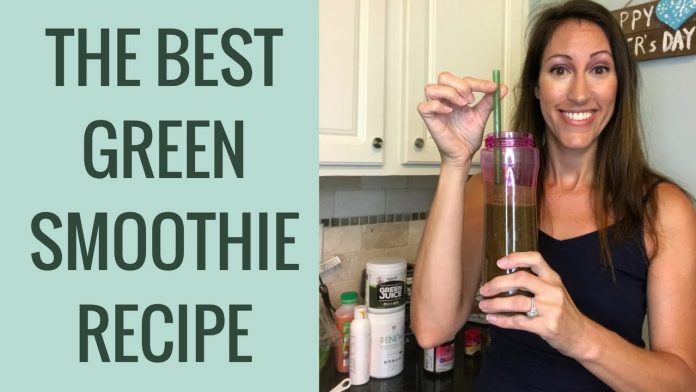 Look no further! The BEST green smoothie recipe for energy, healing and weight loss. This vegan green smoothie drink will boost your energy and create glowing energy within every cell of your body.
Am sharing my favorite green smoothie recipe that is vegan in nature with all the green vegetable goodness that will get your skin and body glowing from head to foot, energize every cell in your body and boost your metabolic process to ease you into a healthy fitness weight loss program. This is 15 years of making green smoothies in the AM expertise I am sharing.
Many thank to our video sponsor: Organifi Green Juice
All viewers will receive 15% off first purchase:
enter code NHR at the check out:
Get 15% off your first purchase of this awesome gluten free, dairy free, soy free, low sugar, superfoods green powder.
My Vegan Green Smoothie Recipe Ingredients
1/2 cup Coconut Water
1/4 cup Carrot Juice
3/4 cup Dandelion Tea
1 full cup greens
1/2 banana
6 organic strawberries
1 tbsp ground chia seeds (freshly ground)
Organifi Green Juice
Renew 5 Collagen Powder
1 tsp Maca Powder
2 tsp Coconut Oil
CALM Magnesium Powder
Powdered Probiotics
Liposomal Curcumin
Dash of Cloves
3 dashes of cinnamon
Have you Entered Our July 2018 40 Over The Rainbow Contest?
Daily Winners receive a FREE 15 min consult with Dr. Melissa (31 winners in total)
One Winner will Win a TOTAL Health Transformation with Dr. Melissa (includes multiple consultations and testing as needed )
*winners chosen at random
Enter to WIN:
If you are into health and wellness and want to binge watch some of my more popular videos — here they are….
#1 Anti-Aging Beauty Secret:
Uncommon Symptoms of Thyroid Problems:
Manual Lymph Drainage for Sinus Congestion, Colds & Flu:
How to Detoxify Your Body
Dr. Melissa's Email: [email protected]
60min Consultations (in person, phone or video) $85/hr
*HSA is an accepted payment method as is private pay
(insurance does not cover the preventative type of care that a Naturopath performs)
~~~~~~~~~~~~~~~~~~~~~~~~~~~~~~~~~~~~~~~
On the Natural Health Resources channel I focus on natural health and wellness oriented educational videos that help my viewers and subscribers achieve their most optimal health. I bring my Naturopathic training to each video focusing on addressing the root cause of various illnesses and diseases.
If you're feeling frustrated with your current health situation or seeking ways to look and feel better than you do now… I hope you will subscribe and my community!
SUBSCRIBE!
SIGN UP FOR MY MONTHLY HEALTH NEWS:
LET'S CONNECT!
Melissa @ Natural Health Resources.Com
—
—
—
And if you want to connect with me personally:
Tweet Me:
If you are seeking any type of health counseling – I now am available to help you virtually via text messaging/phone and soon video chatting on a Phone Ap called InstantGo.
My Profile Link is:
DISCLAIMER: The links in this description contain an assortment of affiliate links, which means that if you click on one of the product links, I'll receive a small commission. I am grateful for your support which allows me to continue to bring quality, valuable FREE content to you every week.