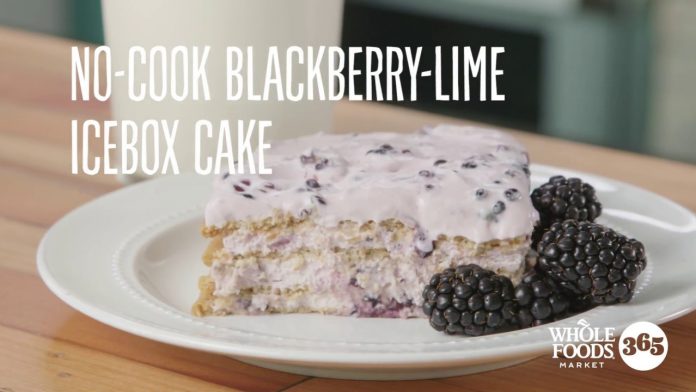 No-Cook Blackberry-Lime Icebox Cake
Makes 12 servings
Make this refreshing summer dessert without turning on the oven! This icebox cake is tangy
thanks to yogurt and lime juice, but perfectly sweet thanks to the summer's best blackberries.
Serve the cake with fresh blackberries and extra whipped cream, if you like.
1 cup heavy cream
1 tablespoon powdered sugar
1 cup vanilla Greek yogurt
1 (6 ounce) container blackberries, roughly chopped
Zest of 2 limes
1 tablespoon lime juice
1 (14.4 ounce) box honey graham crackers
1. In a medium bowl, combine cream and sugar. Whip until soft peaks form, about 1 minute.
Add yogurt and blackberries and gently fold until just combined. Add lime zest and juice and stir
gently to incorporate.
2. On a large serving plate or cake stand, spread about 1 tbsp of the yogurt mixture into a roughly
6-inch square. Remove any large pieces of blackberry and return to the bowl. Place three full
graham crackers on to of the yogurt mixer, side-by-side to form a rectangle. Place another full
graham cracker and then one half-cracker along the length of the rectangle to make a square.
3. Scoop 2/3 of the yogurt mixture over the graham crackers and spread to the outer edges.
Continue layering until you have four layers of graham crackers, then top with the remaining
yogurt mixture. Reserve remaining graham crackers for another use.
4. Carefully cover the cake with plastic wrap and refrigerate overnight. The layers will soften
and meld to form a soft, sliceable cake.
Share your creations with us with #GoodThings365
About Whole Foods Market 365:
Whole Foods Market 365™ is changing the grocery shopping experience. Committed to making healthy living easy, 365 provides simple, affordable and convenient everyday shopping to neighborhoods nationwide without sacrificing the quality standards and dedication to food transparency that Whole Foods Market pioneered. Whole Foods Market 365 features a thoughtful product selection curated for convenience, including the 365 Everyday Value® brand customers know and love, alongside other high-quality brands and new offerings from innovative supplier partners.