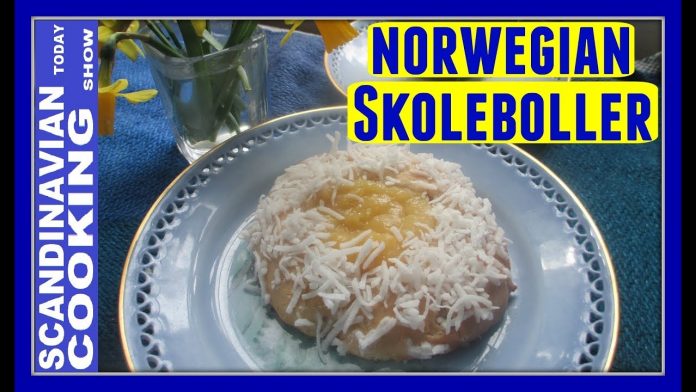 In Norway, we call Norwegian Vanilla Buns "skoleboller" which means "school buns". Skolleboller are a popular Norwegian pastry flavored with cardamom, filled with a creamy vanilla custard and dusted with coconut flakes.
Norwegian School Buns with Homemade Vanilla Cream Recipe
Ingredients:
1 pound of flour
1 cup milk
5 oz sugar
1/2 tsp salt
1/2 tsp cardamom
1 egg
1/4 oz dry yeast
5 oz butter in cubes
Instructions:
Heat the milk and add yeast. Add sugar, salt, cardamom,
and about two-thirds of the flour. Add the 1 egg to the milk. Pour milk mixture into the flour. Mix everything together. Add sliced butter into the batter. Cover the bowl with a kitchen towel for 1 1/2 hour. Let the dough rise to double size.
Cover the balls and leave them for about 30 minutes. Push the balls a little flat and make a center in each. Add a good spoon of vanilla cream in each recess. Set oven at 350 F. Bake 15 to 20 minutes. Let the buns cool. Add glaze. Sprinkle coconut over the glaze.
Vanilla Cream:
1 cup milk
2 oz sugar
vanilla extract (approx. 1 tsp)
1 egg
1 tablespoon of corn flour
Topping: Icing and coconut
Instruction:
Whip together. Mix sugar and cornstarch together. Add it to the milk mixture. Boil the milk. Add vanilla extract. Whisk well until the mixture is completely smooth and lump-free. Turn off heat and let the custard cool.
❄️We hope you enjoyed our video and recipe! ❄️ Give us thumbs up if you like this video & subscribe for more videos. ?? Thanks! Tak!
❄️For notifications of our video release click on the bell (lower left of the video)
❄️ SUBSCRIBE to learn how to make Scandinavian dishes.
❄️ Our Scandinavian Today Cooking Show includes Nordic recipes including Danish, Norwegian, Swedish, Icelandic and Finnish. You might be interested in other Nordic cooking videos including
Æbleskiver ♥ How to Make Danish Aebleskiver with Apple Filling ❅
How to make Swedish Glogg for Christmas & cold evenings! (glögg or mulled wine recipe)
How to make our easy Danish cucumber salad (Agurkesalat) recipe
How to make Danish Kringle – A Delicious Danish Pastry
Norwegian Cake Recipe – Kvæfjordkake – How to make the World's Best Cake!
Finnish Spoon Cookies – Lusikkaleivat
Flatbraud – How to Make Icelandic Rye Flatbread
❄️ New Episodes (just about) two each week. We have over 250 Nordic recipes.
Please let us know if you have a recipe request!
❄️ LET'S CONNECT! ❄️
YouTube Scandinavian Today
Blog
Pinterest
Twitter
Facebook
Google+ +ScandinavianToday
❄️About Us
We are Karen Grete & Heidi (mother/daughter team). We are excited about Scandinavian – Nordic art, travel and of course FOOD!
❄️To get complete recipe with instructions and measurements, check out our blog
We ❤️ you ALL for watching!
Skål!
xoxo
Karen Grete and Heidi
#ScandinavianToday #KarenGrete #ScandinavianCooking #Recipes