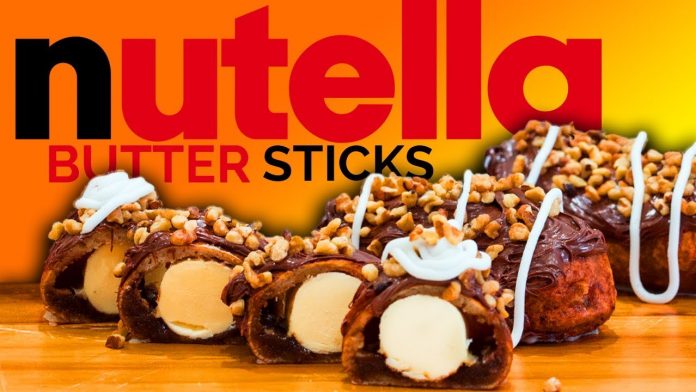 Let Dan teach you how to make Deep Fried Nutella Butter Sticks, a delicious dessert for you and you friends!
Ingredients
2 Cups of brown sugar
2 Tbsp of cinnamon
3 Butter sticks
1 Cup of buttermilk
2 Eggs
2 Tbsp sugar
1 Cup of flour
2 Tbsp cinnamon
1 Tsp salt
1 Tsp baking powder
Vegetable oil for deep fry
2 Cups of nutella
1 Cup of peanuts
White icing
Tools
2 Mixing bowls
1 Oven tray
1 Large pot
1 Metal slotted spoon/Metal tongs
Skewers
Step 1
Mix 2 cups of brown sugar and 2 Tbsp of cinnamon together then begin to coat you butter sticks in the sugar mixture. Once butter sticks are fully coated place in the freezer for 5 to 8 hours. Chef tip do this step one day in advance.
Step 2
In a mixing bowl add 1 cup of buttermilk, 2 eggs and 2 Tbsp of sugar then mix well. Once mixed add 1 cup of flour, 2 Tsp of cinnamon, 1 Tsp salt and 1 Tsp baking powder then mix well. Chef tip add more flour if needed to thicken batter.
Step 3
Remove butter sticks from the freezer then coat in batter and deep fry at 375 degrees Fahrenheit for 2 minutes until golden brown and puffy. After deep fry let cool for 5 mintues.
Step 4
Garnish with nutella, peanuts and white icing.
Check out Harley's Video Diaries –
We have a #YouTubeGaming Channel:
Follow the guys!
@harleyplays @chefatari @epicgrossguy @cooldan @itsmikesantos
LIKE/FAVORITE and SHARE for new meals every week!
Butter Sticks – Handle It