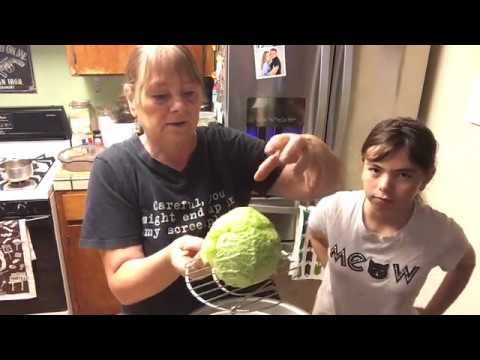 Today I show you one of my favorite instant pot recipes: My Oma's (Grandma's) Bavarian Savoy Cabbage Rolls. My grandma never used green cabbage for making rolls because the leaves of the Savoy Cabbage are so much softer and this makes all the difference. The best cabbage rolls in the world. I made them in the instant pot, whole plan tbased and oilfree. And as July 4th is around the corner, I share with you my easy peasy peach upside down cake recipe. You can whip this cake together before the parade and have a great afternoon delight for your family and guest and as it is oil-free, whole plant based, it is healthier as the usual sweet junk you get in the supermarket. Here are the recipes:
Savoy cabbage rolls:
Cut out the core of a head of Savoy Cabbage. Put 2 cups of water in the instant pot and the little steam stand that comes with the pot. Put the head of Savoy Cabbage with core-hole down on the tray, close the lide, put the valve on seal, push manual and 1 minute and let it steam. When it is done, you can easily take the big leaves apart for your rolls. You do not need to shave the veins as Savoy Cabbage is smoother than green cabbage. Filling: Mi 1 cup cooked brown rice, 1 cup taco crumbles soaked in water and hickory liquid smoke, 1 cup rinsed frozen mixed veggies (peas corn, beasn, southwestern mix, or similar), 1 6oz can tomato paste, 1 chopped onion, 1 clove of garlic chopped, 1 tbsp liquid smoke, 11/2 tsp chopped parsley or basil, 1 tsp ground marjoram, 2 tsp caraway seeds, 11/2 tsp salt or to taste, 1/4 tsp black pepper. Mix everything together well. Chop the inner cabbage core and pour it with some of the onion and veggies into the instant pot and add 1 cup of water, 1 tsp broth spice, 1 cup of a jar fat-free Spaghetti Sauce (Trader Joe's, 26 oz). Now put about 1/3 – 1/4 cup filling into one cabbage leaf. Fold the core part in first, tuck in the sides and roll it up like a burrito. You should be able to fit 7 rolls into the instant pot. I had 7 more left for a second batch. Then pour the rest of the jar tomato sauce on top. Put valve on seal, hit manual and adjust time to 1 minute. Allow natural steam release (10 minutes on warm mode after steam time). Serve with fingerling potatoes and pour sauce over the rolls. MMMMMmmmmh!
Upside down peach cake:
Use a round silicon cake pan – non-stick
Now boil for 1 minute 1/3 cup turbinado sugar with 2 tbsp water. Then pour it in the silicon pnn. Lay peach slices on top until pan is covered = about 4 cups peach slices more or less. Cake batter: Mix dry ingredients: 11/2 cups whole wheat pastry flour, 2 tsp rumford baking powder, 1/2 tsp ginger, 1/2 cup turbinado sugar, 1/8 tsp salt. Now add liquid ingredients: 1 cup vanilla soy milk, 1/2 tsp vanilla extract, 1/4 tsp lemon or orange extract or 1 tsp lemon zest. Mix to a smooth batter and pour over peaches, Cover all. Then bake it at 350F in the oven for 30 – 40 minutes (my one took 35 minutes). Take silicon pan out (careful hot and wobbly!) and let cool for another 30 minutes. Then take a cake platter put it on top and turn the silicon pan. Cake should slide out easily but you have to allow the cooling time!!. Bon Appetite! This cake is easy to prepare and great for afternoon delights in summer. Add soy ice cream if you want to splurge LOL.