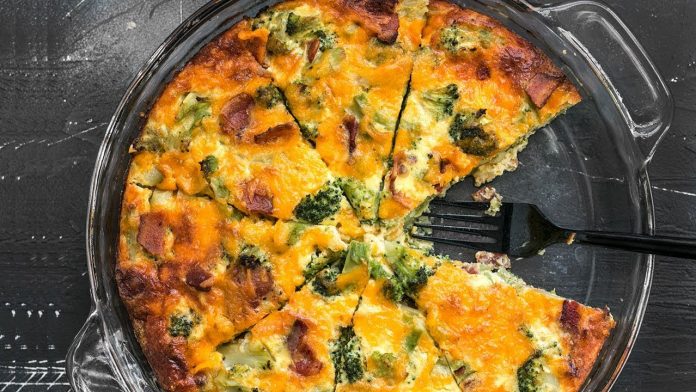 Quiche Lorraine
Prep Time
30 mins
Cook Time
1 hr 15 mins
Total Time
1 hr 45 mins
A classic Quiche Lorraine with a gorgeous smooth filling loaded with bacon. Make this with my EASY shortcrust pastry (recipe below) or use store bought – your choice! The measures in this recipe work with both US and metric (rest of world!) measures.
Quiche is a brilliant make ahead because it's one of those things that truly reheats well without compromise – see notes. Recipe VIDEO below.
Course: Quiche, Tart
Cuisine: French, Western
Servings: 8
Calories: 427 kcal
Author: Nagi | RecipeTin Eats
Ingredients
1 quiche crust, homemade or store bought (see separate recipe below)
Bacon Filling:
1 tbsp / 15g butter
1 garlic clove , minced
1/2 onion, finely chopped (~1/2 cup)
200 g / 6.5 oz bacon, cut into small strips (1.5 x 0.5cm / 2/3″ x 1/5″)
Egg Mixture
4 eggs (~55- 65g / 2 oz each)
300ml / 1 1/4 cups heavy cream (thickened cream) (Note 1)
Pinch of salt & pepper
Cheese:
1 1/4 cups / 150g grated gruyere cheese (or tasty, cheddar, monterey jack)
Garnish (optional):
50g / 2 oz bacon, chopped and cooked until golden
Instructions
Make the quiche crust per the separate recipe below (also see video) or use frozen shortcrust pastry (recipe below) or a store bought pre cooked prepared pie crust.
Preheat oven to 200C/390F (standard) or 180C/350F (fan / convection).
Bacon Filling:
Melt butter in a skillet over medium high heat. Add onion, garlic and bacon. Cook until bacon is light golden.
Transfer to a paper towel lined bowl and leave to cool.
Egg Mixture:
Place ingredients in a bowl and whisk to combine.
Assembling and Baking:
Scatter cooled Bacon Filling evenly across base of cooked quiche crust.
Scatter cheese evenly across top.
Carefully pour Egg mixture over the top. Push some of the cheese/bacon below the surface.
Bake for 35 – 40 minutes until the top is golden. The centre should still jiggly.
Garnish with Extra Bacon, if using. Rest for 10 minutes before removing from the pan to cut and serve.
Recipe Notes
1. This recipe works really great with any full fat cream. Please don't use low fat / fat reduced cream because you will risk the filling not setting. I like to use heavy / thickened cream (for whipping or pouring) with 35%+ fat content.
2. Pictured in post with this Kale and Quinoa Salad which I happened to have on hand because it's one of the few salads I know that keeps well for days and days.
3. MAKE AHEAD: Quiche is brilliant reheated. Keep for 3 – 4 days in the fridge then reheat for 15 minutes at 180C/350F in the oven. Or freeze, then defrost a slice for 2 minutes on high in the microwave then bake for 8 minutes.
4. Nutrition per slice, assuming 8 slices with homemade pastry. This does not take into account the drained bacon fat so the calories and fat are slightly higher than they actually are.
#ONEMinuteCompleteRecipeOfQuicheByMRChef
#ONEMinuteCompleteRecipe
#CompleteRecipeOfQuiche