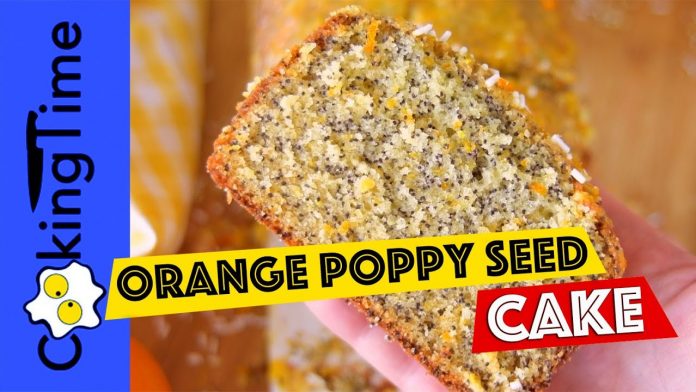 FOR RUSSIAN VERSION –
🍊 INGREDIENTS for 1 cake (loaf pan 23x10x7 cm):
▪️ 225 g all-purpose flour
▪️ 2 g salt
▪️ 2 g baking soda
▪️ 4 g baking powder
▪️ 140 g unsalted butter, at room temperature
▪️ 120 g granulated sugar
▪️ 80 g liquid honey
▪️ 3 eggs, at room temperature
▪️ 70 g poppy seeds
▪️ finely grated orange zest of 3 oranges (or lemons for lemon cake)
▪️ 1 tsp almond extract
▪️ 125 g buttermilk
🍊 FOR ICING:
▪️ 120 g icing sugar
▪️ 25 ml lemon juice
▪️ 10 ml orange juice
▪️ grated lemon and orange zest
🍊 METHOD:
1/ Preheat oven to 350ºF (180ºC).
2/ Grease and flour bottom and sides of loaf pans or ring cake pan.
3/ Mix and sift together flour, salt, baking soda and baking powder. Set aside.
4/ Beat butter and sugar until light, about 4-5 minutes. Add honey and mix well. Add the eggs, 1 at a time, beating well after each addition. Add the orange zest, poppy seeds and almond extract. Mix on low speed. Then add the flour, alternating with buttermilk in 3 additions, beginning and ending with flour.
5/ Pour the batter into the pan, smoothing the top. Bake for 50 to 55 minutes or until toothpick inserted in centre comes out clean.
6/ Let the cake stand and rest for 10 minutes in pan. Then turn the cake out and let it cool completely.
7/ To ice the cake, whisk icing sugar with a little orange and lemon juices. Add zest and mix well. Then pour it over the cake.
Music: "Guts and Bourbon" by Kevin MacLeod (incompetech.com) –
Licensed under Creative Commons: By Attribution 3.0 License