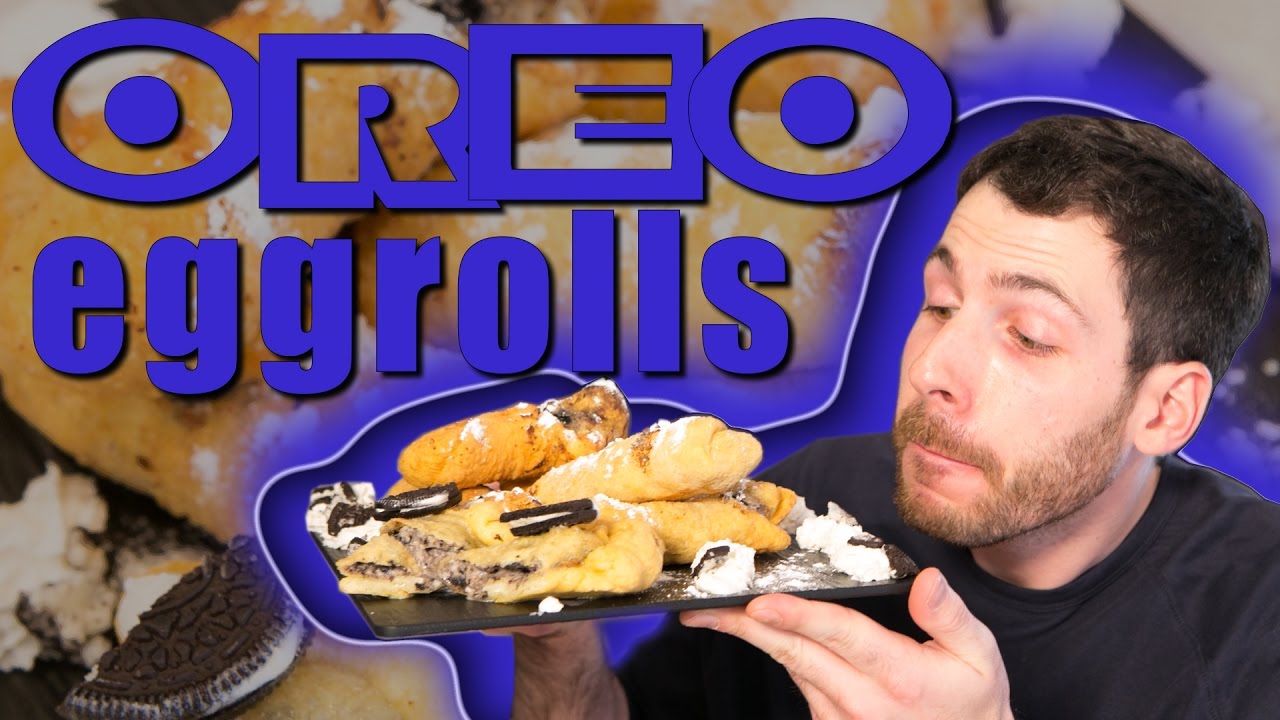 Dan teaches you how to make Oreo Egg Rolls! These are egg rolls loaded with Oreo Cheesecake filling, and is scrumptiously hype.
Food Processor
Mixing Bowl
Rolling Pin
Knife
Large Pot
Metal Slotted Spoon
Spoon
Small Ramekin
Ingredients:
1 Package of Oreo's (35)
4 Bricks of Cream Cheese
3/4 a cup of sugar
1 teaspoon vanilla extract
Eggroll Dough
Cooking Oil
Whipped Cream
1 Egg
Egg roll dough:
– you know this move, weve taught you this. Refer to older videos or use store baught.
Oreo Cheesecake Mixture:
1) Blend up Package of 35 Oreo's in a food processor.
2) Combine : 4 bricks of softened cream cheese, with 3/4 of a cup of sugar and 1 teaspoon of vanilla extract, mix together.
3) add in blended Oreo pieces,
4) refrigerate.
Roll it up Homie:
5) roll out egg roll dough and cut in squares.
6) place oreo cheesecake mixture in the centre, roll. and tuck tightly as you roll.
7) egg wash the sides and remaiing corners, tuck in the sides than role tightly till sealed.
8) deep fry at 350 degrees till golden brown, remove and let cool.
9) serve with whipped cream and Oreo dust.
Check out Harley's Video Diaries –
We have a #YouTubeGaming Channel:
Follow the guys!
@harleyplays @princewallick @lemme_kno @epicgrossguy @cooldan @santos_mtl
LIKE/FAVORITE and SHARE for new meals every week!
And order the COOKBOOK from any of these links:
Amazon: …
B&N: -…
BAM: …
iBooks: …
Need tools to cook with? Order the cooking arsenal:
Spaghetti Crust Pizza – Handle It