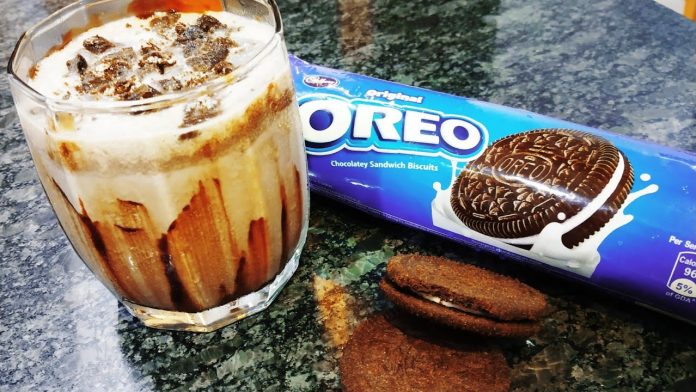 Oreo Milkshake is kids favourite recipe. It is easy to make in just 2 minutes and delicious in taste. #oreo #shake #oreomilkshake
SUBSCRIBE TO OUR CHANNEL 😕
Ingredients
————————
9-12 pcs Oreo Cookies, crushed
3 pcs chopped oreo cookies (for toppings)
OREO SHAKE (Serves 3 cups of oreo shake)
3 pcs Oreo Cookies
6 Tbsp Evaporated Milk
3 cups Crushed Ice
ASSEMBLING OF OREO SHAKE
1-2 Tbsp Black Sago (Pearls), cooked
Oreo Shake (Second Layer)
2 Tbsp crushed oreo (Third layer)
Chopped Oreo cookies, for toppings
Drizzle of Condensed Milk
FOR 1 SERVING OF OREO SHAKE
1 pcs Oreo Cookies
1 Tbsp Evaporated Milk
1 cup Crushed Ice
Drizzle of Condensed
Materials
12 oz Clear Plastic Cups
Big Straw
Procedure
1. In a blender combine oreo cookies, evaporated milk and crushed ice. Processed until the smooth.
2. In a clear plastic cup put black sago(pearl) on the bottom of the cup. Then for the next layer pour in oreo shake. For the third layer add crushed oreo. Pour oreo shake until you reach the bottom of the cup. Then top with chopped oreo cookies and drizzle with condensed milk.
Yields: 3 Cups of Oreo Shake
Enjoy!
For more quick & easy recipes , Please SUBSCRIBE this channel and press the bell icon , its FREE !
Till then
STAY HUNGRY , STAY FOODIE !