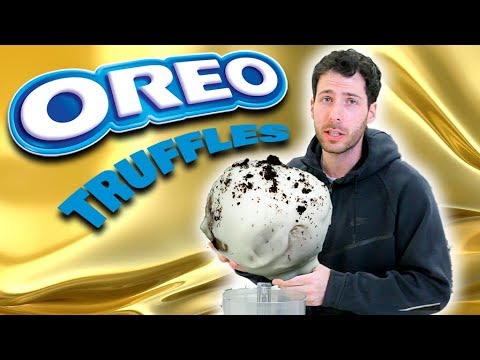 This week Dan will teach you how to make Oreo truffles DIY
Ingredients
20 to 40 Doughnut holes
1 Cup 2% Milk
1 Tsp Vanilla extract
2 Cups white chocolate
2 Cups of Oreo crumbs
Tools
2 Mixing bowl
1 Lagre pot
2 Large trays
1 Food processor
Parchment paper
Latex gloves
1 Cake scrapper
Step 1
Pulse doughnut holes in a food processor but not to fine.
Step 2
Mix 2% whole milk and vanilla extract together then slowly add to blended doughnut and blend until solid. Form small sized golf balls with doughnut mix and set in freezer.
Step 3
Boil a pot of water then place a metal mixing bowl ontop and Melt white chocolate and let cool.
Step 4
Wear latex gloves and coat your hands with white chocolate and roll truffles In your hand covering completely then coat in Oreo dust and let chill in the fridge.
Check out Harley's Video Diaries –
#YoutubeCooking #Cooking #Food #Recipes
We have a YouTubeGaming Channel:
Follow the guys!
@harleyplays @chefatari @epicgrossguy @cooldan @itsmikesantos
LIKE/FAVORITE and SHARE for new meals every week!
Adobo Burger – Handle It