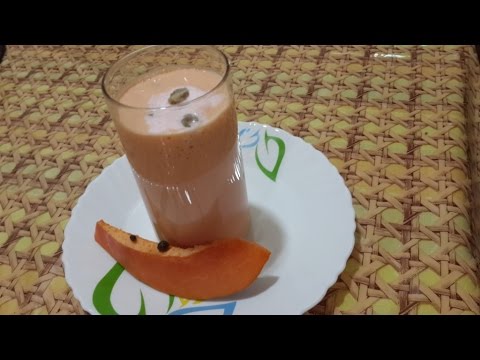 Papaya is a fruit with a lot of health benefits. It is rich in antioxidants like carotenes , vitamin C and flavonoids. It is also good for digestion. Consuming papaya reduces the risk of heart diseases., diabetics ,cancer.
Papaya milkshake is very refreshing during summers. It provides instant energy and very nutritious. You can modify the recipe to suit your requirements like addition of cardamom powder , raisins.
You can also increase or decrease the amount of milk and sugar according to desired consistency.
Kids generally don't like eating fruits as such and this papaya milkshake is a best way to add fruits to kids diet.
Ingredients are
1 cup cold milk
1 teaspoon sugar
1 scoop strawberry icecream
Chopped papaya
Notes:
Wash papaya ,peel the skin. Remove the seeds.
U can also add vanilla essence
U can increase or decrease the amount of sugar and milk
DONT FORGET TO LIKE SHARE COMMENT SUBSCRIBE
THANKYOU ALL
FOR MORE EXCITING STAY TUNED.
CHECK OUR OTHER RECIPES
PATTIES / PUFF
MILKSHAKES
CAKE IN 2 MINS
NANKHATAI
DHABELI
DHOKLA
Follow us on Instagram – shrimuktfoods