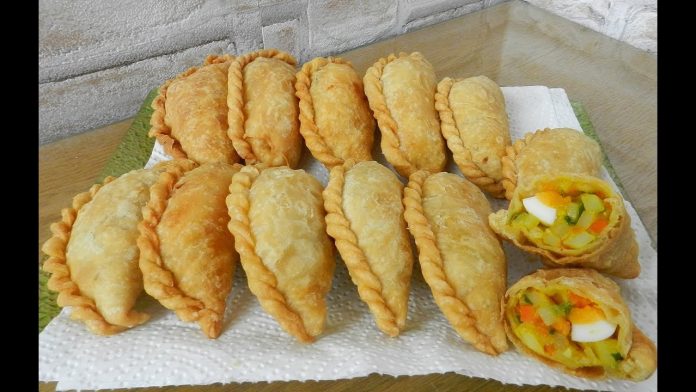 Hello everyone, it's been hectic for a couple of weeks and today post is Pastel or fried savory pastry. They are delicious, flaky thin shells with savory fillings. Have a great weekend 🙂
#pastel #pastry
Please click subscribe for more videos every week
I appreciate everyone for subscribing, leaves comments, likes, and share. Click bell icon to get a notification for new videos, if you haven't done so already.
Choose your language: (use desktop or laptop)
On the right lower of this video, Click CC –setting (gear icon) – subtitles/CC – auto-translate – choose your language
NOTE for my measurements:
1 cup all-purpose flour = 125 grams
1 cup milk/water = 250 ml
Egg substitute alternative: for one egg:
• 2 tbsp water + 1/2 tsp oil + 1/2 tsp baking powder + 2 tbsp flour. Stir until combined and mix with other ingredients for the dough.
Dough (skin/shells):
makes 12 medium or 24 mini size
250g (2 cups) all-purpose flour
42g (3 tbsp) margarine/butter
1/2 tsp salt
1/2 tsp garlic powder
3 tbsp olive oil
1 large egg
6 tbsp very cold water, add 2 tbsp at a time. Tablespoon may vary, please be careful.
Little flour for dusting
Fillings:
3 cloves garlic, minced
1 large green chili, sliced
2 tbsp oil, for cooking
1 medium carrot, diced
2 medium potatoes, diced
1/2 cup of water
Salt, pepper, turmeric powder, cayenne pepper, follow your taste.
1 stalk spring onion, chopped
2 tbsp flour
2 tbsp milk
The filling should be dry to prevent soggily skin/shells
For the method please watch the video above, thanks, everyone!
If you are interested, please take a moment to watch more videos here:
Baking Recipe:
Popular Videos:
Dessert:
Fried Food Recipe:
Home Cooking Recipe:
Travel Videos:
Pinterest :
Google+ : …
Facebook:
Email: [email protected]
Music:
Swoosh – YouTube Audio Library
Keith – Huma-Huma – YouTube Audio Library