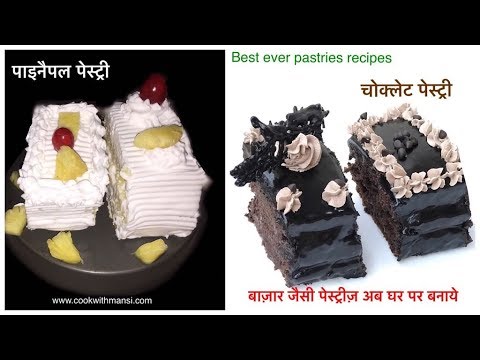 Pasty recipe. How to make pastry at home. Eggless pastry recipe. Easy pastry and cake recipe without oven. How to make cake at home.
Pineapple pastry recipe. Pineapple pastry is all time favourite flavour of all of us. Very yummy and delicious. See the perfect moist and soft pineapple pastry recipe here. Very easy and simple method to make pastry. See the recipe below.
Icing sugar recipe –
Ingredients
1 cup maida/refined flour
3/4 cup icing sugar
3/4 cup milk
1/2 cup oil
1/2 tsp baking powder
1/4 tsp baking soda
3-4 drops pineapple essence
Whipped cream
Pineapple chopped
Cherries
In bowl mix oil and sugar for a minute.
Add flour, baking powder and soda, pineapple essence and milk.
Prepare a ribbon consistency batter.
Transfer this in to greased mould and bake it for 30 minutes @ 180•c.
Decorate it according with whipped cream and pineapple pieces
Chocolate pastry recipe. Chocolate truffle cake. How to make best ever chocolate cake. Chocolate pastry without oven at home.
chocolate ganache recipe-
Ingredients
Chocolate sponge
Chocolate ganache
Chocolate cake recipe. How to make chocolate cake. Easy chocolate cake recipe without oven
Ingredients
1 cup maida
3/4 cup condensed milk or as required
1/2 cup curd
1/2 cup oil
1 tsp baking powder
1 tsp baking soda
1 tsp coffee powder
1 tbsp vinegar
Pinch of salt
3 tbsp coco powder
3 tbsp cornflour
1/2 tsp vanilla essence
In a bowl mix curd, condensed milk, oil, vinegar and vanilla essence.
Shift oil the dry ingredients and make lumps free batter
Transfer this in to greased tin and bake it for 45 minuets
Serve it
Music by Kevin MacLeod (incompetech.com)
Licensed under Creative Commons: By Attribution 3.0 License