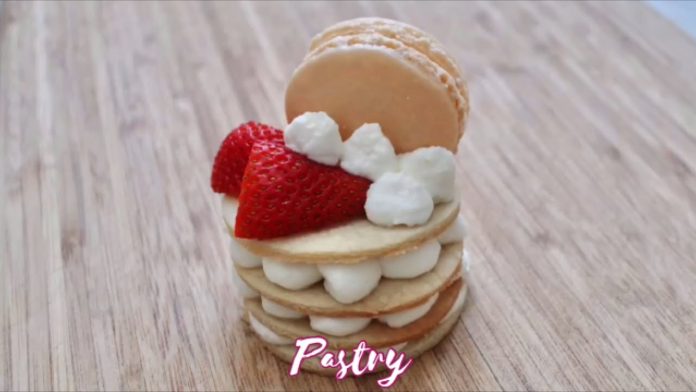 A video of me making this pastry. It is made with four cookie layers and in between each cookie layer is some dollops of cream. On top of the pastry, there is a macaron, a couple strawberries, and a more dollops of cream.
Ingredients for the cookies:
3 cups all-purpose flour
3/4 teaspoon baking powder
1 cup butter
1 cup sugar
1 egg (beaten)
1 tablespoon milk
1 teaspoon vanilla
Feel free to half or quarter this recipe. This recipe makes about 3 dozen cookies.
Ingredients for the macarons:
1/2 cup powdered sugar
6 tablespoons almond meal
1 egg white
2 tablespoons sugar
Ingredients for the cream (filling):
1/2 cup butter or 4 oz of cream cheese (using cream cheese is recommended)
1/4 cup powdered sugar
1 cup heavy whipping cream
1/2 teaspoon vanilla (optional)
Hopefully, you enjoyed this video. 🙂
Music: Circuit
Musician: Jef