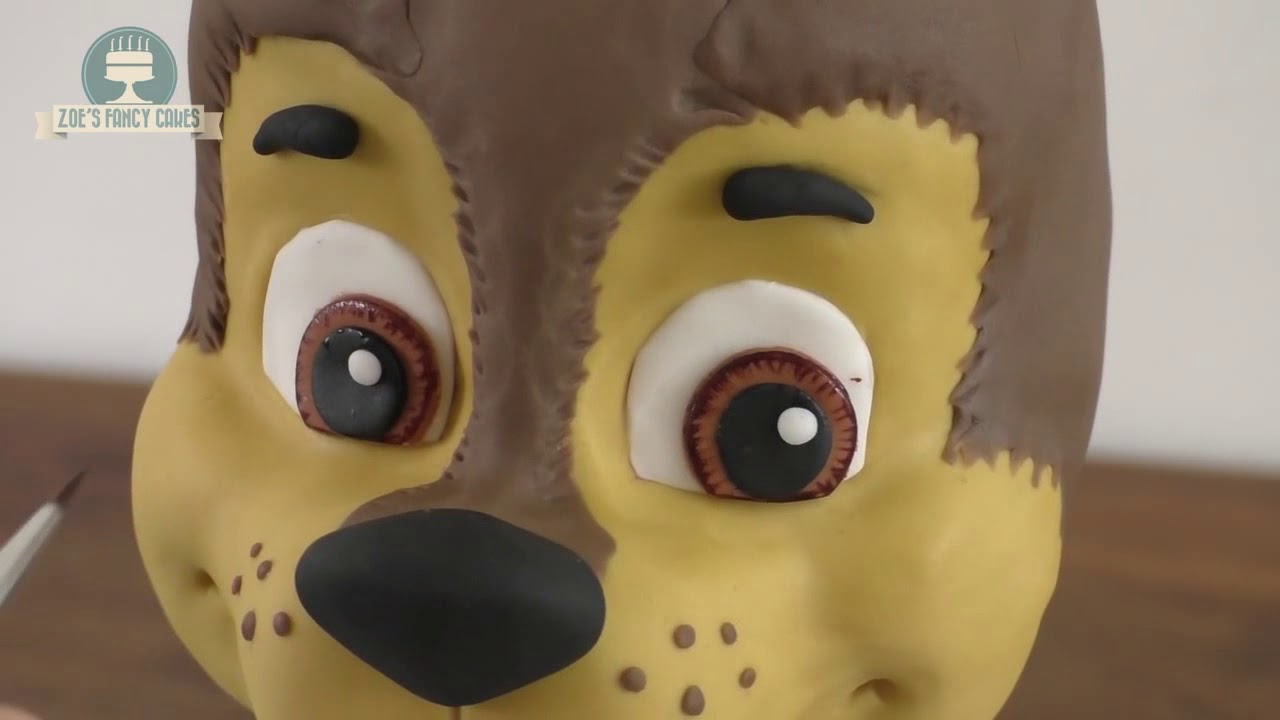 Large 3D Paw Patrol cake of Chase tutorial!
In this video I attempt to create a large 3D cake of chase from Paw Patrol. This was one of my first attempts at making a 3D cake so some of this was playing around with different ideas to see what would work. The body is made from sponge cake ( basic recipe below ) and the head is made from rice krispie treats, both are covered with fondant icing. I also added some very basic internal structure to the cake using cake dowels and used some modelling chocolate to get the shape of the head built on top of the rice krispie treats, again you can find the recipe and instructions on how to make modelling chocolate below. The modelling chocolate I use in this video is pink, however that is just because the colour melts I had left happened to be pink, the colour was not important for this cake as it was covered by fondant anyway 🙂
Thanks for watching my first 3d cake, it was a difficult one! 🙂
Tools and products used in this video –
Image of Chase –
Cake drum 15″ –
PME hollow cake dowels –
Cake disc –
Cake bubble straws –
Renshaws fondant –
Chocolate fondant –
Royal blue sugarflair –
Honey gold sugarflair –
Cake modelling tool –
Sculpting blade –
Chestnut brown sugarflair –
Large round circle cutters –
Cookie cutters –
Star cutter –
Square cutters –
Edible silver paint –
Basic Victoria sponge cake recipe –
Ingredients:
225g butter
225g caster sugar
4 eggs
225g self-raising flour
1 tsp vanilla essence
Method:
Cream together the butter and sugar, then beat in the eggs and vanilla essence. Once smooth and creamy, fold in the flour.
Pour in to a greased cake tin and bake in the oven at 180degrees for approximately 40 minutes, until golden brown and a knife comes out clean.
Buttercream recipe –
600g icing sugar, sifted
300g unsalted or salted butter, softened
optional flavouring
Beat the ingredients together.
– To make rice krispie treats you just need to melt a little butter and your marshmellows in a pan over the hob, take off the heat, then mix in your rice krispies and let them cool down.
– To make white chocolate ganache you can simply melt white chocolate with double cream in a glass bowl above a pan of boiling water ( I use the hob to heat the water, but be sure to turn this right down once the chocolate begins to melt so it doesn't burn). I use the ratio of 3 to 1 white chocolate to double cream
Modelling chocolate recipe –
Take 5 cups of your chosen colour melts / candy melts ( I use Renshaws in the video).
Following the instructions on the packet, melt your candy melts in the microwave. Mix until they have melted completely. Do not burn them.
Heat 8oZ of clear corn syrup in a microwavable bowl for 30-40 seconds. Then pour this in with your melted colour melts.
Mix the two together using a rubber spatula for about 1-# mins. Make sure you do not over mix it.
Place the mix into some cling film trying your best to keep it flat to ensure it sets quicker.
Leave this to set over night ( or at least for an hour or 2 )
knead the mixture, it may now be ready to use.
If you find lumps in your mixture, pop it back in the microwave and knead it again.
Store In an air tight container until ready to use.
To see more of my cakes and creations please visit my pages below-
Facebook
Twitter
Instagram /
Website /
My premium tutorial, sugar craft rose making course, with exclusive discount already applied –