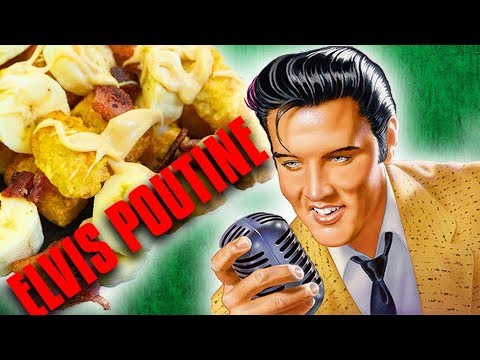 This week Gross Guy teaches you how to create the Peanut Butter Poutine aka The Elvis poutine.
Ingredients
Gravy
2 to 3 Cups of milk
1/2 Cup of peanut butter
2 Tbsp's of flour
Salt and pepper to season
6 to 8 strips of bacon
1 Package of tater tots
2 to 3 Bananas
Tools
1 Chef knife
1 Cutting board
1 Small sauce pan
1 Oven tray
Parchment paper
1 Frying pan
1 Pair of tongs
1 Whisk
Step 1
Bake tater tots in the oven at 450 degrees farnehiet for 10 to 15 minute's.
Step 2
Cook bacon strips in a frying pan on medium heat once cooked reserve the bacon grease for the gravy.
Step 3
Heat bacon grease in a small sauce pan then add 2 Tbsp's of flour and stir until thick. Add 2 cups of milk, 1/2 a cup of peanut butter season with salt and pepper then stir well. If to thick add more milk.
Step 4
Cut bacon strips into bits and banana's into pieces.
Step 5
Garnish tater tots with gravy, bacon bit's and bananas and hail to the king.
Check out Harley's Video Diaries –
#YoutubeCooking #Cooking #Food #Recipes
We have a YouTubeGaming Channel:
Follow the guys!
@harleyplays @chefatari @epicgrossguy @cooldan @itsmikesantos
LIKE/FAVORITE and SHARE for new meals every week!
Peanut Butter Banana Poutine – Handle It